MOVING THE MARKET
Academic studies have shown that there is a strong correlation between stock performances of customers and their suppliers, where if the customers are performing well, their suppliers will also follow with approximately a one month time lag, and vice versa.  Thus, this supply-chain effect serves as a good predictor for supplier stocks performance.  Whereas first degree derivatives, such as options and warrants, derive their values from their underlying stocks, supplier stocks resemble second degree derivatives, whose values not only depend on their own fundamentals, but also on fundamentals of their customers.
OUR OUTLOOK
The market turmoil in the last few years has led to a renewed emphasis on risk management and limiting market exposure by asset managers, particularly for pension funds and insurance companies with annual paid-out obligations.  Long/Short, market neutral strategy is a common way for asset managers to hedge out market risk and improves risk-adjusted returns.  Effect of supply-chain is ideally suited for creating this type of Market-Neutral strategy because it offers a reliable way for predicting future supplier stock performances in both directions.
REVERE RESEARCH REVEALS
Using Revere's proprietary supply-chain data, we back tested a Market-Neutral momentum strategy on the Russell 3000 for the past seven years, and found an annual alpha of 8.5%  To construct the portfolio, we first identified supplier stocks within the Russell 3000.  Then we divided them into quintile groups based on the monthly performances of their customers.  We then go long the top quintile of suppliers and short the bottom quintile, and repeated this process on a monthly basis.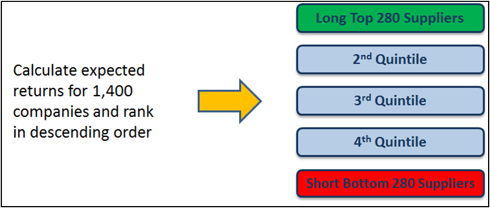 The performance was particularly impressive throughout the financial meltdown in the last 30 months, outperforming the Russell 3000, the S&P 500 and the DJIA by 33%, 39%, and 36% respectively.  In addition this strategy showed no major drawdown, even during the most dreadful period in Q1:2009.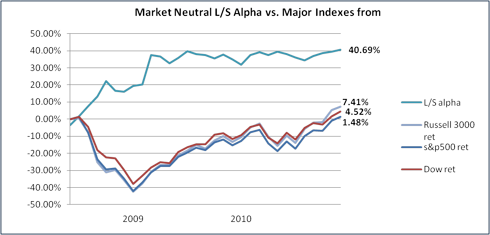 Next, we extended this supply-chain strategy by applying it to individual sectors, and indeed we observed similar momentum results in recent months.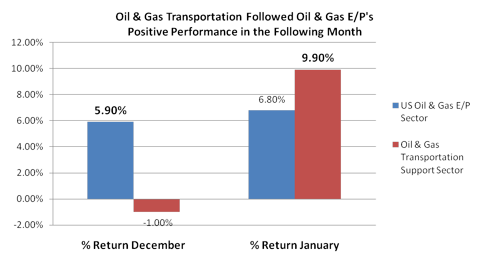 For example, on the long side we found that the
US Oil & Gas E/P sector
performed extremely well in December 2010 with a 5.9% return, and then in January 2011, its key supplier, the
Oil & Gas Transportation Support sector
produced a 9.9% return.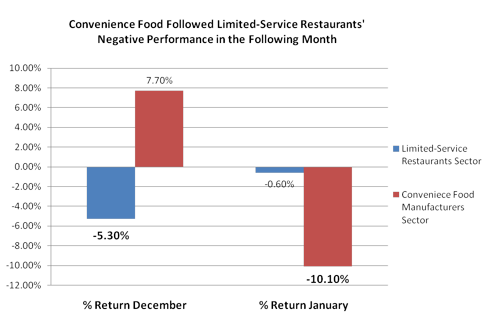 On the short side, the
Limited-Service Restaurants sector
returned -5.3% in December 2010, and its key supplier, the
Convenience Food Manufacturers sector
followed with a January 2011 return of -10.1%.
Finally, the supply-chain strategy could be used on the individual company level.  Below we provided examples of two long and two short ideas.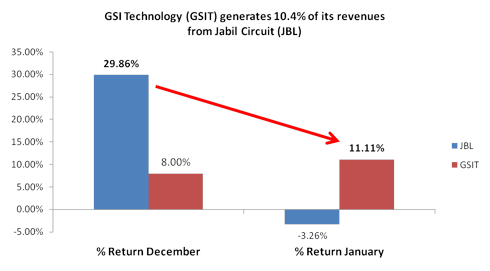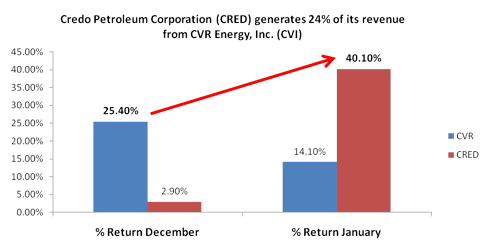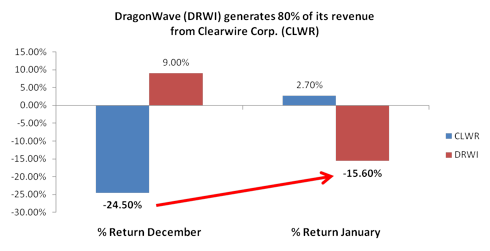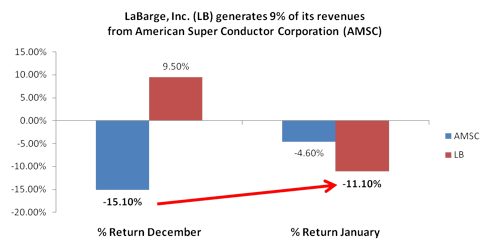 CONCLUSION
Companies do not operate in isolation, and by knowing their positions along the supply-chain, investors can more reliably predict their stock performances.  As the global economy becomes more integrated, this supply-chain knowledge will be essential for managing risk exposure and improving portfolio returns.
Wal-Mart, the largest US retailer, will be reporting its earnings next week.  Revere recommends that investors should monitor its key suppliers closely as they most likely will track Wal-Mart's performance soon after its earnings announcement.  Below we provided three Wal-Mart key suppliers and the percent of revenues each derived from Wal-Mart:
Cal-Maine Foods, Inc. (NASDAQ:CALM) - 36.4%
Del Monte Foods (DLM) - 35.0%
Alberto-Culver Company (NYSE:ACV) - 25.0%
Jeremy Zhou, Aakarsh Ramchandani, Jun Zhu and Michael Filighera contributed analysis and graphs for this article.  Also, as presented by Kevin O'Brien on CNBC's Closing Bell with Maria Bartiromo.

Disclosure:
I have no positions in any stocks mentioned, and no plans to initiate any positions within the next 72 hours.