After nearly two months Apple's (NASDAQ:AAPL) parabolic run is over, or at least taking a break. On January 24th, Apple blew away Wall Street with huge numbers on a blowout quarter, and shareholders have been rewarded ever since. Until recently, Apple has rarely had a stumble, adding billions to their market cap daily, and at times propping up the Nasdaq (NASDAQ:QQQ) and S&P 500 (NYSEARCA:SPY). In fact, the tech titan hardly declined this week and was essentially unchanged by Friday's close. On Monday Apple opened at $598.37 and on Friday closed at $596.05, for a whopping $2.32 decline, or .38%. However,this historic run that Apple is compiling is beginning to run out of steam, and momentum is quickly fading.
Last Monday, March 19th, Apple declared a quarterly dividend, as well as a share buyback program. Personally, I think this was a good use of their nearly $100 billion cash hoard, one that will likely amass the same amount in the next fiscal year. While many may disagree with this move, I think that it will bring stability from buy-and-hold investors, as well as income based hedge funds looking to add this behemoth company to their portfolio. After this news release, Apple was able to make the push above the $600 mark and hold it for most of the week, before selling off on Friday. But a few things were obvious last week, mainly that Apple needed a rest. It has become clear that, while there certainly may not be many bears, the punch that all the bulls have been drinking is drying up. Twice this week we saw "flash crashes" in Apple's stock price, the latest one occurring on Friday when a 100 share trade took place at $540, or down 9% from where it was previously. Quickly after the trade, the stock was halted until trading promptly resumed near $600, and trading remained normal for the rest of the day. Below are two charts showing Apple's price action over three and six month periods.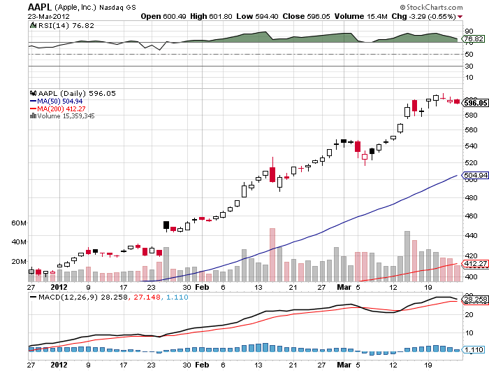 Above: Apple 3 month chart (click to enlarge)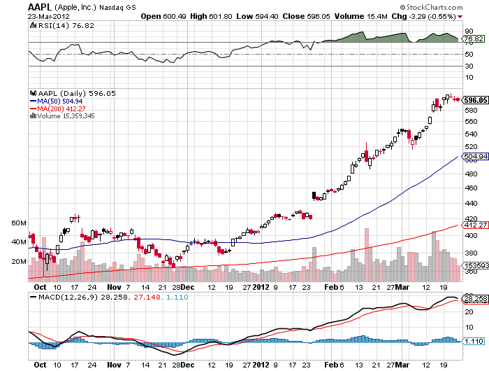 Above: Apple 6 month chart (click to enlarge)
On both charts it is quite evident that Apple has had an unsustainable run. It would be nice to pretend and imagine that they can stay here forever and continue this beloved run, while investors watch starry-eyed and drooling. However it is simply not possible, every stock comes down, and Apple is no exception. Though the RSI (relative strength index), a measurement that shows oversold and overbought levels, is not screaming out that Apple is severely overbought, but a reading of 77, does suggest an overbought condition. Also, a glance at the 50-day simple moving average, which is currently $504.94, nearly $100 below current share prices, would suggest a pullback is near. Another reading, the 200-day simple moving average is all the way down at $412, far below Apple's current stock price, and even more reason that this stock is due for a rest, and dare I say, a decline.
Yes, they have an amazing balance sheet. Yes, they have amazing and innovative products. Yes, they still have a profoundly low PE ratio. Now, I don't want to shock anyone here, but it has to come down! I'm not saying Apple is going to trade into the single digits, or that it will go bankrupt tomorrow. In fact, I'm not even an Apple bear, I just think that in order to sustain this long term run, a healthy decline is certainly warranted. I think Apple has great prospects, but it has become clear, many bulls are becoming leery of buying into these levels. Without seeing the frenzied buying we have become accustomed to the previous eight weeks, it would suggest that the bulls are taking profits and a breather, while the bears loom close by, waiting for their opportunity. Could Apple keep running on its way to $650? Absolutely. But it will only make it more likely that Apple comes down harder and faster than it would now.
I think a pullback to the $550 range would be adequate, though a steeper fall is certainly not out of the cards. When you start hearing people talk about buying shares at cocktail parties, it's usually a sign that the end is near, at least for now. Bearish technicians are starting to claim $610 as a top, and failing to close above $600 amid Friday's slight sell-off could be suggesting a pullback is destined sooner, rather than later. I would anticipate this and am not a buyer near these levels. Should short term selling pressure mount in a substantial manner, I will likely use weekly puts to take advantage of this inevitable fall.
Disclosure: I have no positions in any stocks mentioned, but may initiate a short position in AAPL over the next 72 hours.