From self driving cars, computerized eyeglasses, mysterious floating barges and immortality, Google (NASDAQ:GOOG) has been making some strange headlines in recent year with some of it's new projects. Many of these top secret innovations have had investors somewhat puzzled as they have little to do with the company's core search engine business. And it seems like that is all part of the plan. As Google search becomes ubiquitous, the company is using it's massive cash flow to fund unrelated projects, which it hopes to eventually develop into full blown businesses.
Under the stewardship of co-founder Sergey Brin, Google has been operating it's top secret Project X division from a clandestine lab in California, with the goal of developing radical new technologies which it hopes will revolutionize the world. Robotics has always been an important part of Google's vision for the future; the company has purchased seven robotics companies in the last 6 month alone. On Friday, Google purchased it's latest robotics developer, which it hopes will help it blossom into one of the leaders in the envisioned robotics revolution.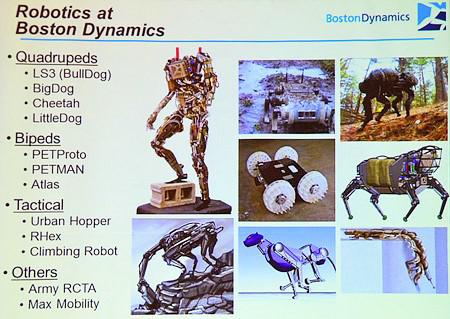 Google's New Mascot?
Boston Dynamics, a small but high profile robotics developer, best known for creating the BigDog four legged computerized robot, was purchased by Google for a yet undisclosed price. The BigDog is part of a broad line of products currently under development by the company, capable of climbing steep slopes, running long distances and carrying hundreds of pounds over rough terrain. Google has yet to articulate exactly how the robotics theme will play into the overall company's future plans, but by the looks of it, Google expects the industry to be rather important to the company.
Long time Google engineer Andy Rubin is leading the robotics team. Mr Rubin was the former Senior Vice President of Mobile and Digital Content at Google where he oversaw the development of the hugely popular and profitable Android smartphone operating system. Putting an executive with so much experience and power behind the robotics initiative lends a tremendous amount of credibility to the division and sends a clear message that this is not simply a pet project.
Shareholder Impact
From an investor perspective, the impact that Google's entry into the robotics field will have on profits and revenue remains rather murky. Boston Dynamics currently has a contract valued at $10.8 million to provide robots to the Defense Advanced Research Projects Agency (DARPA) which operates as a research agency within the Department of Defense. Google has specified that these contracts will be honored. Furthermore, Boston Dynamics has not been shy in the past to extol the military adaptability of its robotic creations.
"The vision for LS3 is to combine the capabilities of a pack mule with the intelligence of a trained animal." Army Lt. Col. Joe Hitt, DARPA program manager.
The company's LS3 line of four legged robots is marketed as being a soldiers best friend. The motorized, but quiet, mechanical robot is designed to follow troops in the field, carrying supplies and providing support. It is currently being tested in field exercises being conducted in Virginia and California.
While military contracts have historically been viewed as the holy grail of profits for an company, shareholder must surely be asking themselves whether Google actually is expecting to exploit the use of robots for military intentions. Google has an informal corporate motto stating "Don't Be Evil," and although it can be argued, developing technologies which can be used for war and destruction might be viewed as contrary to the company's overall culture. With that in mind, shareholders should assume that Google has far more civilian plans for its robotic vision of the future.
"Don't be evil. We believe strongly that in the long term, we will be better served - as shareholders and in all other ways - by a company that does good things for the world even if we forgo some short term gains." Google IPO Prospectus, 2004.
Future Potential
The implications for widespread robotic integration within our everyday lives is huge. This is perhaps the central focus of Google's robotic aspirations. The integration of current Google products within the domestic robotics industry can be seen as both a revolutionary technological development as well as a future profit and growth driver for the company. We will now examine some ideas Google is likely considering as it continues its plan to develop robotic devices in conjunction with furthering its current product divisions.
Mapping: While Google Maps has been around for years and in many ways has become the de facto mapping software for consumer applications, it still remains rather limited. Google can potentially use robots to dramatically increase map detail and overall offerings. While Google has been using cameras, mounted on vehicles to offer intricate views of cities for years, Google has a much broader vision for the future. Recently the company has been sending people out on foot, carrying large backpack cameras to capture views in locations where vehicles are not permitted. This is a costly and time consuming endeavor. Perhaps Google anticipates using small robotic devices, with camera integration, to map and categorize millions of hard to reach locations. Having a developed robotics research division would make this possible.
Elderly Care: With the number of elderly people in the United States to skyrocket over the coming years, robots could provide an easy and cost effective resource for the healthcare industry. It is expected that there will be over 72 million people aged 65 years or older in the United States by 2030, accounting for nearly 19% of the population. Robots are currently being studied and tested within the eldercare industry in Japan, a country which is in the midst of an aging crisis. It's estimated that Japan would be able to save up to $21 billion per year if used robot nurses to monitor the elderly. Although definitely a controversial topic, when faced with the reality of a dramatically aging population, and as robots are refined to be more human-like, the idea of robotic assistance might become more palatable. Robotic assistants like the RIBA, developed to lift, carry and rest patients within hospitals and other care facilities may one day become the industry norm. Spotting the size of this potential market, Google might be planning on using its size and extensive clout within the tech industry to become a leader in the growing robotic assistant industry.
Hazardous Cleanup: In harsh and dangerous environments, robots will always be preferred over humans. In the aftermath of the Fukushima nuclear disaster in Japan, robots were used to survey the damage and map critical areas. The Honda Motor Company (NYSE:HMC), maker of the ASIMO robot, is currently improving the design of its ASIMO biped robot in order to make it capable of carrying out more sophisticated tasks within the nuclear cleanup operations.
Search And Recovery: On another theme, robots could be developed for use under severe conditions for search and recovery operations. Robot assisted search and rescue has been a growing field for years and companies and universities have been actively testing devices aimed at humanitarian goals. The Center for Robot-Assisted Search and Rescue in conjunction with Texas A&M University has participated in dozens of search and rescue operations over the years and has a stated goal for "responders all over the world to own and regularly deploy truly usable robots by 2021."
Domestic Chores and Security: The iRobot Corporation (NASDAQ:IRBT) had been developing and selling a wide range of robots for years. The technology has uses within the home, for cleaning tasks as well as within the defense and security industries. The company has also recently developed robots for use within the retail and commercial fields. While the company is still rather small, with revenue of just $436 million in 2012, it has grown at a fast clip, averaging 21% revenue growth over the last 8 years. The robotics industry is certain to be a large and rapidly growing industry for many years to come and Google's recent moves indicate that it wants to be a large part of this exciting and growing industry.
Industrial Applications: Robots have long been used in a wide array of industrial applications, from welding, packing, assembly and inspection. While these robots are generally limited in their abilities, a new breed of sophisticated and versatile industrial robot has been creeping into use over the last years. Wireless robots are now being used to supervise and monitor data centers, keeping careful track of heat zones and problem areas. Moreover, Amazon.com (NASDAQ:AMZN) has been a longtime user of robots in its massive warehouse fullfilment centers to pick and pack consumer goods. Amazon saw so much potential in the technology that it even bought the leading maker of material handling robots, Kiva Systems, in 2012, for $775 million in cash. Google has had an adversarial relationship with Amazon for a long time and by entering the robotics field, the competition will only be increased.
Conclusion
While we do not know exactly what Google has planned with its strong push into the robotics industry over the last 6 months, one thing is clear; if any company can use it's experience and technological power to transform and grow an industry, it's Google. While there are strong military and defence applications for robotics, a company like Google probably has less confrontational aspirations. The potential for the robotics industry going forward is massive and I only mentioned a few of the potential industries above. Google has likely examined a multitude more, and will continue developing and refining its products before making any major announcements. Shareholders with a wild imagination can envision Google developing a robotic device which could make use of several of its Project X development concepts in combination. Perhaps a self driving, four legged robot, wearing a pair of Google Glasses and running the latest version of Android could be just the thing that everybody has been waiting for to transform their lives. Only time will tell.
Disclosure: I have no positions in any stocks mentioned, and no plans to initiate any positions within the next 72 hours. I wrote this article myself, and it expresses my own opinions. I am not receiving compensation for it (other than from Seeking Alpha). I have no business relationship with any company whose stock is mentioned in this article.