Abstract
MRI's staff member thought her firm's investment strategy was like graceful dahlia, but in reality, it was carrion rafflesia, With his exceptional marketing skill, Fujinaga attracted unwary Japanese wealthy individuals and built this $1.3 billion fallacious empire in Las Vegas, which managed a medical account receivable investment strategy.
Case Profile
Fund Name

MRI International

Investment Manager

MRI International, Inc.

Portfolio Manager

Edwin Yoshihiro Fujinaga

Junzo Suzuki

Other Notable Parties

n/a

Investment Strategy

Asset Based Lending

Founded

1998

Estimated AUM

$1,365 million

Estimated Losses

$1,365 million

Major Misconducts

To be determined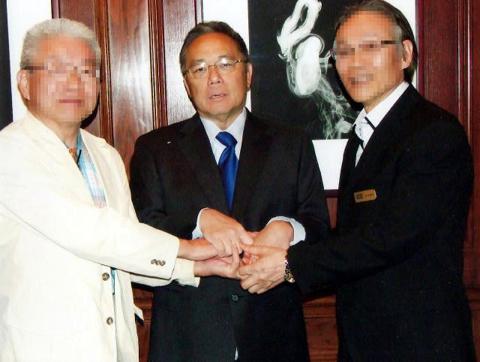 Source: Agura Monogatari Nikki
From Las Vegas with Lies
On April 26, 2012, Japan's Securities and Exchange Surveillance Commission announced it had cancelled the registration as an asset manager of little known Nevada-based MRI International, Inc. ("MRI") and Financial Services Agency began investigation for MRI's potential misconducts.
According to various reports and its own website (which was subsequently shut down), MRI raised over $1.3 billion from 8,700 investors in Japan and promised to deliver 6.0-8.5% annual returns through investing in medical account receivable in the United States.
The medical account receivable system (MARS) is one type of asset based lending strategy where an investor purchase account receivable for various medicals fees from healthcare providers at discount and receive money from the insurance companies. These medical receivables are usually covered by a private insurer the patient has a policy with, so the investor is not exposed to credit risk of the policyholder.
MRI's investment strategy ran into a problem when their cash balance depleted after making payments to existing investors using proceeds from new subscriptions. When the regulators visited their Tokyo office, they found that the funds had only a few million dollars.
The actual amount MRI raised and managed was not known yet, but the total loss from MRI could outsize AIJ's $1 billion (See Case N.5 AIJ). The structure and strategy of the scheme was quite similar to Petters (See Case N.3 Petters).
Fujinaga the Marketing Maven
What differentiates MRI from other asset managers is its marketing technique. MRI was founded and amanged by Edwin Yoshihiro Fujinaga ("Yoshinaga"), a Japanese American, who understood preferences of Japan's wealthy investors. MRI set the minimum investment at relatively low so that suspicious investors can start with a small amount. As MRI paid dividend and principal back to the investors on time, they feel more confident with the program and invest with a bigger amount. MRI's 6.0-9.6% returns look very attractive for Japanese savers who only earned 0.01% interest on their deposit over the last decade. Investors with over $3 million are invited to the firm's invitation-only gorgeous tour in Las Vegas, which included an onsite visit at its headquarter using the firm's limo.
MRI's Investment Program
Minimum Investment

JPY 1.5 million (approximately $15,000)

Dividend Yield

JPY: 6.0-9.6%

USD: 6.5-10.32%

Investment Period

2-5 Years

Currency

JPY or USD
Source: MRI International Victims Group (mrihigai.seesaa.net)
Leaving Las Vegas??
At this point, I do not know if there was any sign of misconducts which investors can potentially find out before investing, but found that Fujinaga's arrest record in 2012. On July 16, 2012, 65-year old Asian man was arrested and jailed.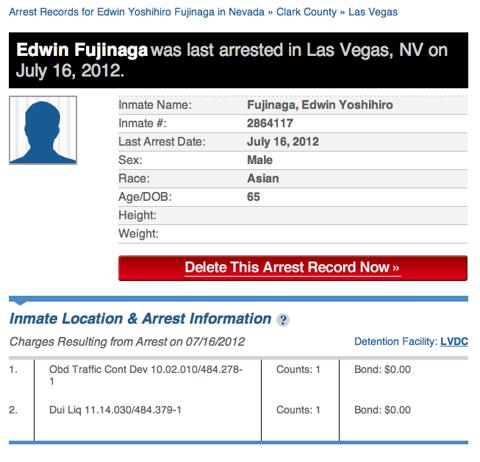 IRS Investigation
There was another case in which Fujinaga was sued by US IRS on March 2013. According to the initial claim, the IRS requested information to make a determination of the source and accuracy of revenue for MRI, but Fujimori ignored the court-ordered summons at least twice. This motion was probably a part of the investigation launched by the Japanese regulators who do not have a jurisdiction to investigate the foreign entity. The exhibition attached to this court document shows that MRI's office expense on the 2009 Form 1120 amounted over $6 million.
Last Blog Update: Flowers of This Week
MRI also managed several websites, including a blog where its Japanese staff updated the firm's trivial events providing investors with more friendly impression of the company. The last blog post, written by a staff member Ms. Yamazaki on April 18, 2013, was about "Flowers of This Week":
"Hello.
This is Yamazaki at MRI International Client Service Center.
This week's flowers at our office entrance are dahlias and roses.
Dalias from Mexico hit a big boom in the 19th century in Europe. After many years of breeding, there are so many kinds of dahlias are grown commercially.
Josephine, wife of Napoleon, loved dahlia's graceful and gorgeous appearance and planted many rare species to show off.
We wish MRI International's MARS investment program to be like those beautiful flowers for our clients."
Unfortunately, she did not know her company was not growing beautiful dahlia, but carrion Rafflesia.
Reference:
"Japan regulators may pursue charges against U.S.-based asset manager MRI," Reuters, April 26, 2013, www.reuters.com/article/2013/04/26/us-ja...-idUSBRE93P02F20130426
Reference Material, Securities and Exchange Surveillance Commission, April 26, 2013, http://www.fsa.go.jp/sesc/news/c_2013/2013/20130426-1/01.pdf (Japanese only)
Edwin Y. Fujinaga and MRI International v. United States of America, District Court for The District of Nevada, April 11, 2013, http://ia801702.us.archive.org/33/items/gov.uscourts.nvd.93798/gov.uscourts.nvd.93798.1.0.pdf