As I predicted before, silver is having a breakout these days. And the evidence is piling up. One of the evidences of a bullish scenario is the silver stock at the CME.
As you can see on chart 1, the silver stock at the CME is declining, ever since Eric Sprott did his PSLV offering of $US 200 million on the market on 12 July 2012. I predict that registered silver will start to decline soon (blue dots).
Once the silver price breaks the $US 30/ounce level, it's off to the races.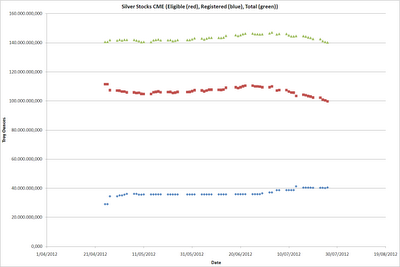 Chart 1: Silver stock at CME
Disclosure: I am long PSLV.