Beyond the news of Angie's List (NASDAQ:ANGI) CEO William Oesterle selling 27% of his shares over the past year, several 13G filings have popped up on the EDGAR and they spell a scary story for shorts.
Combined with short interest on Jan 31 of 18.4M shares, and assuming none of the big holders (top 8) have sold any of their shares, it appears that the practical short float may be as high as 120%!
I've heard across the board that ANGI shares are impossible to borrow and I've heard of limited anecdotal reports of brokers forcing shorts to cover their shares due to limited supply. If my rudimentary chart below is anywhere close to accurate, and especially if any big players have upped their stake, we could be in for some massive short-term stock manipulation.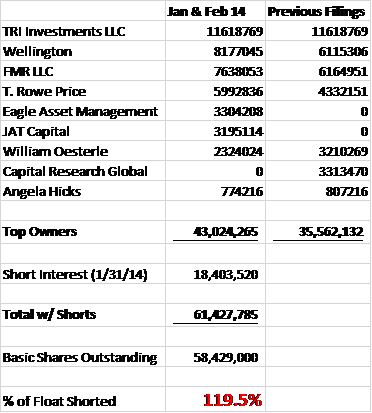 In essence this stock is so heavily shorted that it is physically impossible for the stock to move much lower without one of the 'big names' folding.
It seems as if Capital Research Global has 'seen the light,' but the rest of the institutions continue to increase their ownership.
At this point, I'm resigning to the fact that my puts will probably expire worthless. Long-term the company is a $0, and probably under $5 within the next year, but for now it's devolving into a high stakes game to see who blinks first. A few of these big bag holders are going to get burnt extremely badly, but not perhaps before a significant number of shorts are crushed.
With shorts being forced to cover and the 'big players' upping their stakes almost universally, this one could get really nasty really quickly. In fact the 'smart' trading move might be to load up on $17.50 calls for March. I won't be doing this, but I do have a $22.50/$20 Mar14 call spread play left over as an insurance play against earnings-who knows, it might pay off significantly.
Ulterior Motives?
On a side note, I received a message from an anonymous user suggesting that I had 'ulterior motives' due to the fact that I published an article bashing Angie's List while also holding puts ($12.50s and $15s). If anyone has any issues with what I post, please post below in a public forum, don't try to attack me or threaten me in a private message. Also please make sure you leave your full name. If you think there's any misleading information, by all means, feel free to contact the SEC. I'd love it if they looked into this company, maybe they'd find some suspicious insider dealing behavior by the CEO … Perhaps the $10.4M of insider sales while giving (allegedly) misleading statements?
Trade History
As often as possible, I post my trades on Seeking Alpha and Twitter within minutes in an effort to be transparent. Here is my recent history on ANGI trades (2014):






Anyways, best of luck to everyone- it's going to be a wild week out there.
Disclosure: I am short ANGI.
Additional disclosure: I am short via Feb14 puts ($15 and $12.50). I also am long bullish call spreads for Mar14 ($22.50/$20).