This morning, results of the latest US Investor's Intelligence Sentiment Poll were released. Bullish sentiment increases to 55.7% from 53.6%, while bearish sentiment decreased to 14.4% from 15.5%. Thus, the gap between bulls and bears (which I call "net sentiment") reached 41.3%, the highest number I have seen in a long time.
Contrary to what you might believe, this is not good news. It's a warning flag. The chart below may seem confusing, but I'll explain…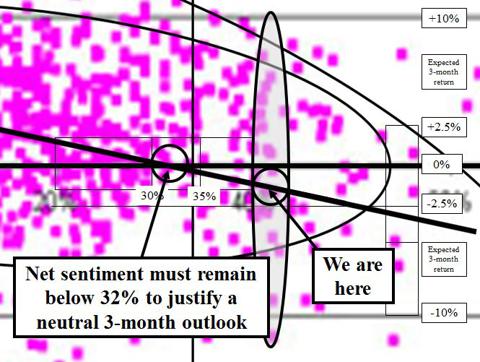 This is a scatter graph of every net-sentiment data point for as far back as I could find. I combined this data with data regarding stock market returns in the 3-months following each net-sentiment data point. The results showed an inverse correlation. In other words, the more bulls (vs. bears), the more susceptible the market has been to a decline.
The breakeven point on this graph is 32%. In other words, when bulls outnumber bears by more than 32%, the market has typically dropped in the 3-months that followed.
As stated above, we are currently at 41.3%. According to my graph, the most likely market return over the next three months will be -1.5%. The range, however, is wide. Under these conditions, the market could rise as much as 8% or fall as much as 12%.
Because of the great year on the market, many portfolio managers are set to receive big bonus checks. Others are playing catch-up because they haven't kept pace. Both types have an incentive to buy stocks until the New Year. The successful ones will get bigger bonuses if stocks keep rallying, while lagging managers will buy stocks, hoping to catch up. Thus, the market could keep rising until year-end. It's a big game of chicken.
However, considering the market's recent run, a pullback appears due sometime in the next three months. It could be now or it could be later. FYI, in addition to the information I have already provided, many of my risk/reward charts are topping out. Accordingly, I am selling most of my secondary (non-favorite) investments. I am also making sure that my remaining positions are properly sized, according to my publicly-available Methodology.
Of course, I will maintain a position in my favorite stocks (especially the ones with positive risk/reward charts). At present, my very favorite core positions are ATTU & GLUU. My favorite speculative positions are GSAT, PXLW, TPCS, & a new pick I provided to PTT Research subscribers on Tuesday.
Barring a market correction, I expect all of my stock to be up (after all, I believe they are all "poised to triple"). In fact, even if the market falls, these positions could rise based on business momentum. Thus, at times like these, I hold my favorite stocks and simultaneously place heavy bets against the S&P 500 and the Russell 2000.
Be careful out there.
Disclosure: I am long ATTU, GLUU, GSAT, PXLW, OTCQB:TPCS.