Get all my picks and analysis for free by texting "follow bostongekko" (without the quotes) to 40404.
You can also find me on Twitter here.
____________________________________________
It's a busy earnings week for small cap software companies. One of the more notable reports was released by Attunity (ATTUF.OB) this morning. Meanwhile, one of the more highly anticipated results will be released by Broadvision (NASDAQ:BVSN) tomorrow night. In these two software vendors, we have a tale of divergent fortunes.
Looking at ATTUF, the company and its shares appears poised for another year of meteoric growth. The company reported revenue of $5.7M, up 121% year over year. This represents an acceleration of its 26% growth during the first nine months of the year. The results were driven by its flourishing strategic relationship with Microsoft, IBM and Oracle, Notably, the multi-year / multi-million dollar Microsoft deal was recently renewed.
Based on discussions with the Gartner Group, I have learned that Attunity possesses unique strengths in the red-hot data integration space which make it attractive to these large partners. Indeed, ATTUF's technology is in an integral piece of Micosoft's latest version of SQL Server. Following my discussions, I concluded that one of ATTUF's partners might want to acquire the company to gain a competitive advantage. This gives ATTUF's shares two avenues for appreciation - growth and/or acquisition.
It's important to note that Attunity's arrangements yielded 156% growth in its software license business in Q4. Since software licenses are a precursor to maintenance and services revenue growth, investors can count on more revenue growth in the quarters to come.
ATTUF has also boosted its R&D spending in recent quarters. New products have been released and more are coming. This will also drive continued growth for the company.
Looking at its valuation, ATTUF increased its book value by $4.5M in 2011, up more than 600% over 2010. Backing this number out of its market cap, we can calculate that its adjusted enterprise value to equity-growth ratio (a proxy for P/E) is less than 6. Meanwhile, its adjusted EV to revenue run rate ratio is just over one. Its R&D ratio is a miniscule 3. This is a low-water mark that often results in a higher valuation or acquisition for software companies over time.
Considering its 100% revenue growth rate, both of these ratios are significantly lower than typical valuation metrics would provide. Software venddisplaying this sort of growth and traction with industry leaders are generally afforded valuations between 5 and 10x these levels. This implies that ATTUF could justify a share price of $4-10.
The disconnect is clearly a function of its non-existent institutional sponsorship. However, as its visibility increases the shares have been steadily rising. After a recent pause, its chart shows a clear cup-and-handle formation, one of the most bullish set ups a stock can display. This is consistent with ATTUF's seasonal pattern -- for each of the past two years, its shares have more than doubled in the winter timeframe.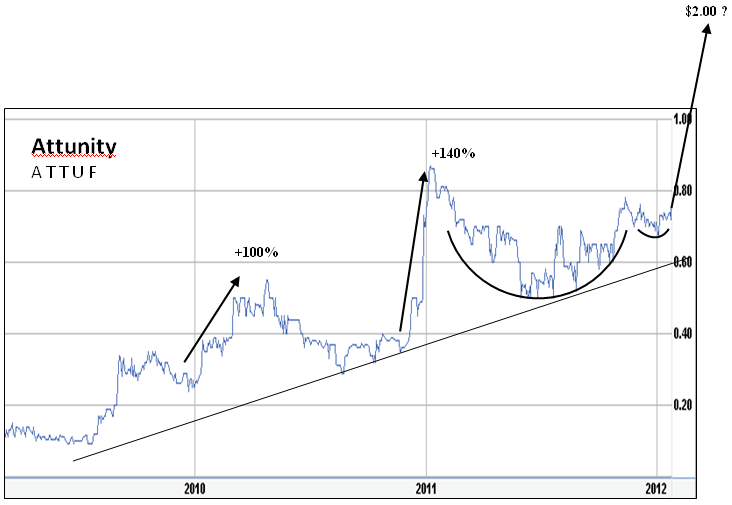 Cup- and-handle formation signals another rally is beginning for shares of Attunity
With a market cap of just $30M, insiders owning 25% of the shares outstanding, and average volume of just 22,000 shares, it won't take much for the shares to take flight.
Income Statement - Attunity (ATTUF)
 

Year Ended

 

Quarter Ended

 

2010

2011

Change

 

Dec-10

Dec-11

Change

 
 
 
 
 
 
 
 

Software Licenses

4,645

8,140

+75%

 

1,242

3,182

+156%

Maintenance & Services

5,430

7,029

+29%

 

1,337

2,530

+89%

 
 
 
 
 
 
 
 

Total Revenue

10,075

15,169

+51%

 

2,579

5,712

+121%

 
 
 
 
 
 
 
 

COGS

1,951

1,453

 
 

408

509

 

R&D

2,482

4,960

+100%

 

799

2,219

+178%

Sales & Marketing

3,831

5,851

 
 

976

2,275

 

G&A

1,854

2,835

 
 

522

723

 

Operating Expenses

10,118

15,099

 
 

2,705

5,726

 

Operating Income (loss)

-43

70

+263%

 

-126

-14

+89%

Financial Expenses, net

1,388

1,284

 
 

999

918

 

Loss Before Taxes

-1,431

-1,214

+15%

 

-1,125

-932

+17%

Taxes (benefit)

74

-399

 
 

17

-521

 

Net Loss

-1,505

-815

+46%

 

-1,142

-412

+64%

 
 
 
 
 
 
 
 

Loss Per Share

-0.05

-0.02

+60%

 

-0.04

-0.01

+75%
As investors digest ATTUF's results, many still await BVSN's upcoming release (due out Thursday evening). In the September quarter, revenues showed some signs of life, growing marginally over its June results, but still down 19% year over year.
The coming report will be crucial for BVSN. The company has been enjoying the fruits of past success in the form of software maintenance revenues. Ever since its days as an Internet darling, BVSN has been collecting annual maintenance fees on the numerous multi-million dollar deals it signed for its market-leading eCommerce suite of products. However, 10 years have passed and customers are overdue for more modern solutions. Unfortunately for BVSN, they are purchasing them from the likes of IBM and Oracle (via its acquisition of ART Technology Group) among others.
Of equal importance, CFOs have long-since depreciated BVSN's software from their balance sheets. This has given IT departments the financial green-light to replace BVSN's aging platform. This is bad news for BVSN maintenance revenue. The can clearly be seen on its balance sheet. In the first nine-months of 2011, deferred maintenance fell 38% to a mere $3.4M. This is particularly shocking because software maintenance revenues typical rise...and rarely fall by more than 10%.
This decline has been a significant source of BVSN's revenue shrinkage. Even more disconcerting, maintenance fees are among the most profitable sources of revenue for the company. As a result, we will be watching eagerly to see if BVSN's newest offerings are gaining enough traction to offset the demise of its eCommerce franchise.
It will be most interesting to see if the company can match ATTUF's $5.7M in Q4 revenues. If it does, that will be one thing the companies share. Indeed, BVSN contrasts with ATTUF in several regards:
Its valuation has become very full in recent weeks. Backing out its book value, BVSN currently trades at 5x its revenue run rate. ATTUF trades at 1x. The same ratio for R&D puts BVSN at 14x versus ATTUF's 3x. Looking at book value growth, BVSN's multiple is -29x versus 3x for ATTUF.
Year over year growth in the most recently reported quarter was -19% for BVSN versus 121% for ATTUF. License revenue at BVSN declined 3% while ATTUF's grew by 156%.
According to Gartner Group's latest Magic Quadrant, 22 vendors offer social enterprise platforms that met the criteria for inclusion in its report. BVSN wasn't one of them. Assuming that it eventually meets the necessary requirements, it will be competing against IBM, Microsoft, and Jive Software for a spot in the leaders' category, along with SAP, Salesforce.com, and four others in the visionary category.

In contrast, Gartner lauds ATTUF's capabilities as being unique in the marketplace. The company has smartly sought to partner, rather than compete, against the industry's leaders.
Considering each company's respective valuation metrics, BVSN appears to be overvalued by 35-50%. Meanwhile, ATTUF is arguably undervalued by several hundred percent. With ATTUF results fresh off the presses, investors can jump in, armed with positive results and the knowledge that sales of SQL Server are helping to steer future growth.
In contrast, holders of BVSN will be waiting with baited breath for results that will have to show marked improvement across many categories to avert a further decline in its shares.
Disclosure: I am long ATTUF.OB.