Welcome to this week's PTT Insider.
"…almost all of my picks are up since issuing "Easy Moves To Double Your Money" on December 12."
"Of course, some of our picks (like GLUU and PXLW) are off their highs, but both remain up for the year and reported excellent Q1 earnings. GSAT has done one-better -- it hit a 5+ year high yesterday."
"Our 'Methodology Portfolio' is up 5.5% year-to-date versus the NASDAQ and Russell 2000, which are both flat since that time."
- Mark Gomes
HOW TO MAKE FOUR HUNDRED TIMES YOUR MONEY
On November 27, I issued a "Stock Market Yellow Alert", warning investors that a market top seemed near. It was hard for many to fathom. After all, the market was marching to new highs, seemingly every week. On December 12, I followed that piece up with "Easy Moves To Double Your Money In 12 Months".
These weren't opinion pieces. They were reports summarizing what my Methodology was telling us to do. You see, I'm not the boss driving my investment decisions - my Methodology is.
The reason is simple. I am only a human. I have emotions. Thus, I can't be trusted to make smart trading decisions in the heat of the moment.
This is why I developed my Methodology. Over the course of 25 years, I have incorporated every lesson I have ever learned, ever bit of wisdom my mentors (John Cassarini and Norman Wechsler) have imparted, every observation from the world's best investor (like Peter Lynch and Warren Buffet) and everything I've seen work over the past several decades.
If you re-read the "Easy Moves" article, you'll see that the portfolio I discussed ended with this:
"13) Nov 27 - STOCK MARKET YELLOW ALERT!! The stock market looks expensive. A lot of our picks have tripled and we've almost doubled our money this year!! Let's trim our excessive Speculative positions. In this case, we only need to trim the first investment we made in GSAT, bringing us down to a more reasonable investment size. PXLW has become less speculative in recent months, but hasn't gone up a lot, so we'll keep that entire position. That gets our Speculative plays back down to 10%."

Let's also sell all of our holdings in SPY. That leaves us with about $1M in stocks and $1M in cash. That's right…we started the year with $1M in stocks and now have about $1M in stocks AND $1M in cash. We have doubled our money!!!"
Here's a detailed view of how our hypothetical portfolio closed out 2013:
(click to enlarge)

Click to enlarge
*Somehow, I mistakenly forgot to include Delia and QADA in the original article. FYI, if I had, QADA's outperformance would have enhanced the results.
ERROR CORRECTION UPDATE: The date in this chart should have read "Dec 12, 2013", not "Dec 31, 2013". Sorry for any confusion! ~MG
Since this time, we've added five positions. Two were Speculative (AERO and a pick that only Newsletter members have). The other three were Spring Picks (one of which that only Newsletter members have). For this discussion, I'll only stick with the picks that we've made available to the general public. According to my Methodology, about $20,000 would have been an appropriate amount to put into the Speculative picks (1% of this portfolio into each). About $40,000-60,000 (2-3%) could go into each of the Spring Picks (I used $40,000 in the chart below to be conservative).
Assuming we simply kept all of the other positions we had on December 12, 2013 (in reality, we graduated STX when it hit $53.82, triple our initiation price), let's see what that would give us today:
(click to enlarge)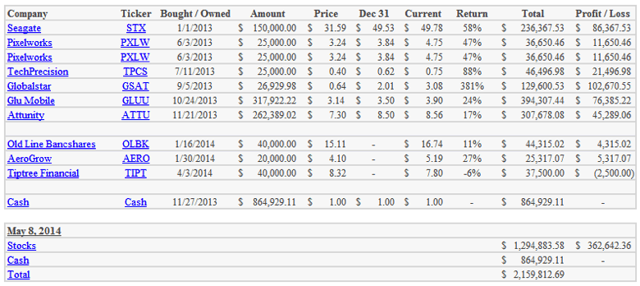 Click to enlarge
Take note of the fact that almost all of my picks are up since the December 12 article. As you peruse the performance table, also note that most of my picks are small-cap technology stocks. As CNBC has reminded us every day for the past month, small-cap stocks (especially those focused on technology) have been hammered this year.
So, how have my picks escaped the carnage?
It's simple. I've been very careful to pick companies that are truly well-positioned (and not just saying they are). I verify each company's claims with experts and customers, while also investigating the competition to see who has the easiest path to success. Once that process is complete, I do a detailed valuation analysis, which sometimes requires weeks to complete.
In the end, I only provide you with the best of the best picks.
Of course, many of my picks are down from their highs. That can't be avoided. In fact, my Methodology talks about protecting your profits when a pick hits the top of its Risk/Reward Chart channel. Both GLUU and PXLW did so in March, before the market correction started.
I know it may not feel like it, but both stocks remain up for the year. That outperformance should tell you that these are real companies with real value, based on superior potential reward versus their inherent risk. Indeed, both of them validated this claim by reporting excellent Q1 earnings. GSAT has done one-better. That stock hit a 5+ year high yesterday. Whether or not they pan out, investing in companies with this profile is how you make superior returns over time!
As you can see by the totals in the table above, our "Methodology Portfolio" generated a $118,000 profit in our simulation, year-to-date. That's about 5.5% profit in just five months (13.5% annualized). Compare that to the NASDAQ and Russell 2000, which are flat since that time. If you can make 13% when the market is flat, you can make ~40% when the market has a normal 7% year. This has been my experience going back to 1996.
That's a big difference…and my sample portfolio doesn't even include juicy short positions like King Digital (BATS:KING), FireEye (NASDAQ:FEYE), or even the UltraShort Russell 2000 ETF (NYSEARCA:TWM). In a market like this, shorting "bubbly" stocks like KING and FEYE (or even index ETFs that match your portfolio's profile, like TWM) can produce huge profits to offset pullbacks in attractive stocks, like GLUU and ATTU.
In fact, in a market like this, I do my best to have a good (and relevant) short to protect each of my long positions. By "relevant", I mean that the hedge (short) should be similar to the stock(s) you are protecting. For example, TWM is good hedge for GLUU, because GLUU is in the Russell 2000. KING is also a good hedge for GLUU because it is also a game maker (and overvalued in my opinion).
For a company like DLIA, I especially want a hedge, because retailers lost a lot of business recently, due to this year's harsh winter. For that one, I picked companies like Cache (NASDAQ:CACH) and GNC (NYSE:GNC), which has worked out great. I've actually made more on my hedges than I have lost on DLIA. Perfect!
Of course, even with short positions (and option hedges) in place, I've given back a few percentage points of overall profit in the past month, but that's normal Wall Street. Stocks are supposed to go "two steps forward and one step back". Lately, that hasn't been the case, making a lot of inexperienced investor feel like they know what they're doing. However, without years of formal education and experience, it's very difficult to know how to truly value stocks.
This is why readers subscribe to my service...to get my professional opinion on the true value of various stocks. With that information, making a profit becomes easy.
To trounce the average investor, all we have to do is to take 2 ½ steps forward and ½ a step back. As you can see from my mock portfolio above, it's easy and very profitable. By learning and adhering to my Methodology, you have a great chance of doing that (if you aren't already).
Following the Methodology can be tedious and boring, but it has been a major blessing in my life. It has enabled me to generate nearly 40% per year since 1996. That works out to 400 times my money.
Yes, FOUR-HUNDRED.
By comparison, the Dow has barely tripled over the same timeframe. This is why I talk so much about it. If I could achieve one goal with PTT, it would be to have every one of you learn to use my Methodology perfectly. If that happens, I believe that all of us can make 400 times our money in the years to come.
This is a good time to learn. Right now, my Methodology tells me that the market is still too risky to get aggressive. That doesn't mean that the market is going to tank. Rather, I believe the S&P could easily go up 5% from here or down 9% from here. There are other possibilities, but my Methodology focused on the likeliest scenarios…and frankly, I don't like the idea of playing a game where winning means +5% and losing means -9%.
I'm not the only one who believes this. Ned Davis Research (an organization I greatly respect) built a chart that mapped historical cycles, including:
How stocks trade from season to season (i.e. "sell in May and go away" type of stuff)
The Four-Year Presidential Cycle, because politics play a huge role in economic performance, and therefore stock prices.
The result suggested that a flat or correcting market can be expected for most of this year, before a resumption of the multi-year uptrend we've been experiencing.
In the meantime, arm yourself to succeed during rough times as well as the good ones. Read my Methodology often (I update it often!) and please consider adopting it. You saw the results above.
FOUR HUNDRED TIMES YOUR MONEY.
I don't blame you if you want to try your own methods, but frankly, I'd rather follow a proven (albeit boring) 40%/year method and spend more time on the beach. If I want excitement, I'll take a few hundred bucks to the casino.
FYI, PTT Newsletter subscribers have received some new unpublished picks in recent weeks. To upgrade your membership and get our picks early, be sure to sign up here. If the PTT Newsletter is too pricy for your budget, you can earn cash rewards when friends and colleagues subscribe. In fact, one of our members earned $1,800 and an all-expense paid trip to Miami Beach in just two weeks.
To learn more, check out our Ambassador program.