Apple's (NASDAQ: AAPL) falling market share has given bearish investors a reason to short sell the company's stock. The iPhone maker has ceded market share to Samsung (OTC: OTC:SSNLF) and Chinese brands, including Xiaomi, Lenovo and Huawei, but should this worry investors? Money managers value a company's ability to generate sustainable cash flows, revenues and profits to drive future shareholder returns and stock performance. Apple has delivered on all fronts. In addition, if one were to measure the smartphone market by profits, Apple firmly holds a monopoly in profit share.
Apple's growth this fiscal year
Investor confidence rose after Apple posted solid top and bottom line growth during the April-June period. The Cupertino, Calif.-based company generated profits of $7.7 billion, or $1.28 per share, on revenue of $37.4 billion. That compares to profits of $6.9 billion, or $1.07 per share on revenue of $35.3 billion, a year earlier.
A majority of the earnings upside came from Apple's iPhone segment, the largest profit generator, which made up 53% of the company's total revenues on 35.2 million units sold during the June quarter. Sales of iPhones advanced 9% to $78.3 billion on 129.95 million units for the first nine months of fiscal 2014, the company said in its recent 10-Q filing.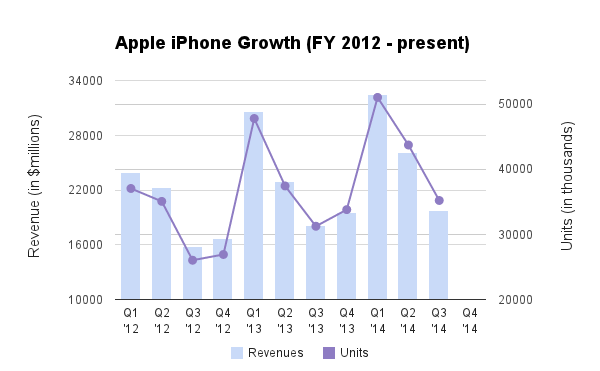 Figure 1: Apple's iPhone revenues and unit sales continue to improve year-over-year. Data retrieved from Apple's quarterly SEC filings.
Bearish investors claim that Apple's iPhone growth has stalled in key emerging markets, but Apple's quarterly earnings reports and conference call transcripts reveal a different story. Apple sees improving smartphone sales across significant emerging markets.
For the June quarter, sales of iPhones in Brazil, Russia, India and China, the so-called BRIC nations, grew 55% year-over-year. In Europe, iPhone unit sales were up 10%, Apple CEO Timothy Cook said on the recent earnings call.
These results follow a strong second quarter where iPhone sales in Greater China, Brazil, Indonesia, Poland and Turkey saw double digit growth. In the same period, India and Vietnam iPhone sales more than doubled.
Strong growth in Greater China
Revenues in Greater China, including mainland China, Hong Kong and Taiwan have jumped 22% over the past nine months. That makes Greater China the fastest growing geographical segment so far this year. China's third-quarter iPhone numbers exceeded expectations. Unit sales grew 48% in the Chinese market, Cook said on the conference call. That more than doubles the market estimate of 24%.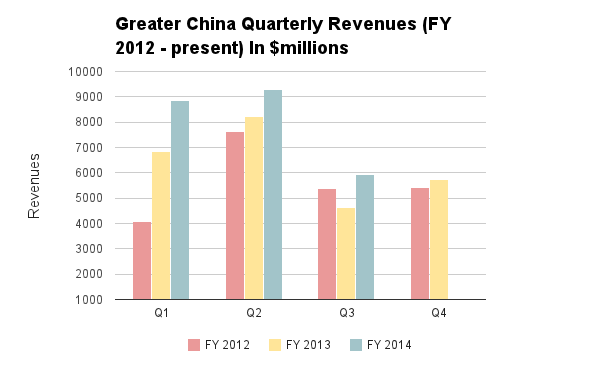 Figure 2: Apple's Greater China revenues growing year-over-year this fiscal year. Data retrieved from Apple's quarterly SEC filings.
Apple's deal with Chinese telecom operator China Mobile (NYSE:CHL) has helped fuel iPhone sales in the Chinese smartphone market. Apple executives expect revenues to excel going forward asChina Mobile beefs up its 4G network.
"A lot of China Mobile customers have been holding on to old phones, so when the high-speed 4G came out they naturally switched to a 5S or 5C and upgraded. This trend will only become more apparent with the iPhone 6's release," said CK Lu, a senior analyst for Gartner, Inc.
Apple plans to triple its retail stores in China over the next two years to take advantage of the rapid 4G adoption growth.
Chinese smartphone market data
Recent data from research firm Canalys shows Chinese phone makers Xiaomi, Lenovo and Huawei outpacing Samsung and Apple in the Chinese mobile market. Xiaomi became the leading smartphone vendor during the second quarter, overtaking Samsung with 14% market share.
Apple did not make the top five, but reported a "relatively strong year-on-year performance, up 58%, helped by the iPhone's poisition as one of few high-end device options available to consumers looking to use 4G services from China Mobile," Canalys reported.
China's smartphone growth largely derives from lower-end, low margin Android devices. About 57% of smartphones in the Chinese market comprise of Android devices in the less than $300 price range, according to research from Beijing-based Umeng.
Apple does not directly compete within those pricing segments, ergo, the company does not garner significant market share at the scale of the top five vendors. Apple caters to consumers that pursue high-end smartphones.
Apple sits comfortably in the Chinese premium market, raking in huge profits, while others generate razor thin margins. About 27% of smartphones in China cost more than $500 and 80% of those high-end phones are iPhones.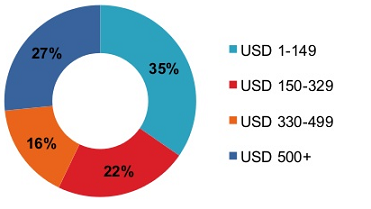 Figure 3: Distribution of price ranges of smartphones in China. Source: Umeng
Japan, on the other hand, has become Apple's second fastest growing market this fiscal year. Apple and Japanese wireless carrierNTT DoCoMo (NYSE: DCM) forged a partnership last September that contributed greatly to Japan's growth. For an analysis on Apple's performance in Japan, refer to an earlier article titled, "Apple's Japan Sales Are Improving Year Over Year."
Apple's profit share in the overall smartphone market
Apple's solid revenue and profit growth is still not enough to appease some bearish pundits. Bearish commentary should consider Apple's overwhelming profit share in the overall smartphone market when discussing the company's market performance.
Apple earned 87.4% of smartphone profits nine months ago, according to estimates from research analyst Tavis McCourt at Raymond James. Apple accounted for 77.8% of profits a year earlier, he said.
Samsung is the only smartphone vendor besides Apple that turns a prominant profit. Samsung earned 32.2% of profits, up from 26.1% in the same period last year. Readers may question how these numbers add to 100%. The total between Apple and Samsung equates above 100% because the model accounts for the negative earnings from other industry players.
Samsung directly competes head-to-head with Apple's high-end mobile business. However, Samsung's profit share has been under pressure this fiscal year from Apple and Chinese brands like Xiaomi. Competition in the mid to low-end market dug deep into the Korean company's mobile business in the June quarter, Robert Yi, Samsung's head of investor relations said on the recent earnings call to investors.
Samsung's quarterly net profit plummeted 19.56% on disappointing companywide revenue figures. Sales from the mobile business, which generates 53% of net sales and 61.3% of total operating profit, declined 21.3% year-over-year. Operating profit margin for the mobile division slid to 15.5% from 17.7% a year ago, the lowest since the fourth quarter of 2011.
Apple now threatens to dent Samsung's profitability in the larger screen market with the rollout of larger screen iPhone models later this fall. The iPhone 6 devices may boost Apple's profit and market share forward if the company successfully woos high-end buyers from Samsung.
How does Apple sustain an outsized profit share?
Apple is a premium brand with pricing power, coupled with considerable brand equity that allows it to price products very high. If Apple develops a cheaper iPhone model, it would damage the company's reputation as a premium brand.
"There's always a large junk part of the market," Cook toldBloomberg Businessweek in an interview. "We're not in the junk business."
That explains why Apple refuses to release a cheap, low margin smartphone, which Cook labels the "junk business." The strategy of sacrificing profits to gain market share is not part of the company's business model. Cook says he is working hard, however, to attract consumers away from cheaper brands.
"There's a segment of the market that really wants a product that does a lot for them, and I want to compete like crazy for those customers," Cook said. "I'm not going to lose sleep over that other market, because it's just not who we are."
Apple uses older models to fill the void in the mid-range pricing segment to attract elastic customers that cannot afford the newer, higher-priced models, but still want to experience the quality and value of an iOS product. The iPhone 4S successfully fulfilled this duty in emerging markets for the past two years.
Bottom Line
Strong earnings growth, along with shareholder value creation through share buybacks and dividend increases, has pushed Apple's stock price up, earning investors a 1-year return of 45%. Apple's mobile business has been booming this fiscal year. Investments to expand into emerging markets such as China and Japan have paid huge dividends to top and bottom line growth.
Bearish investors argue that Apple's dwindling market share threatens the company's positioning in the smartphone market. Android and Windows Phone smartphone makers give up profit margins to compete for market share at the mid to low-end segments, while Apple takes the lion's share in the profitable, high margin smartphone business. Bears should consider Apple's robust profit share when comparing the company to industry-wide competition.
Disclosure: The author has no positions in any stocks mentioned, and no plans to initiate any positions within the next 72 hours.