On November 12, 2012 we did this trade:
Sell TC December 3.00 puts for .30 or better
Our objective is to have the puts expire worthless this week; and when they do we will only have held them for just over a month in order to capture an annualized return of over 90%.
We try to find companies that are undervalued for reasons of sentiment. This often takes the form of a reaction to a news event or perceived financial calamity. We find that these scenarios give us a powerful trading advantage for those companies that are not in true financial distress. Typically, there are two reasons for the trading advantage that is presented: 1) the stock price is depressed well beyond the standard deviation from the mean; and 2) option implied volatility is substantially inflated due to the unreasonable temporary sentiment that has been generated in connection with the stock's price decline. The TC chart has formed a bottoming pattern after two years of an unrelenting down trend. While the stock has been heavily oversold and is probably significantly undervalued, it has been demonstrating improvement in its relative strength.
On a candlestick chart the stock price has been making higher lows since August 2012. It recently closed at 3.74. A close above 3.77 will confirm its course to change its trend to positive within the next several weeks or months. Many traders will wait until the break out above the down trend line (see chart below) before entering the market with the herd. While those traders may make money on an investment in TC, they will not make the profits that we will extract by being first to the party.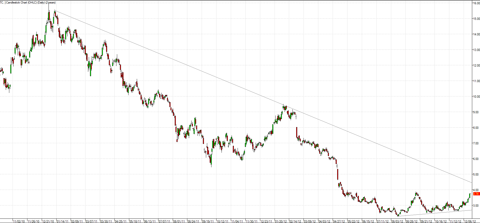 On a point and figure chart, TC is already outperforming its peers; and it is one box away from flashing a relative strength "buy" signal against the market. This will mean that TC should outperform the general market over the next six months on average. The stock is also one point and figure box from a "buy" signal on its price chart (see below).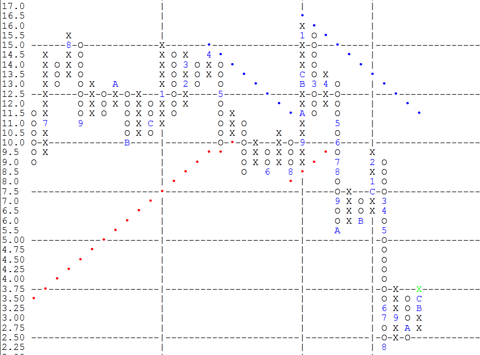 With option implied volatility still above average, selling puts into this strength will either secure very favorable investment returns, or ownership of TC stock at attractive price levels. As indicated, we will be pocketing a 90% annualized return on invested capital for the option trade that will be completed this week. Our follow up trade is more conservative; and while not as lucrative, it is nevertheless well worth doing. We intend to sell March 3.00 puts for .25. If these puts expire worthless we will pocket a 33% annualized return on invested capital.
For a more aggressive trade, sell January 4.00 puts for .45. The trade is more aggressive because the option is presently in-the-money; and the probability is greater that you will be assigned shares. However, if assigned, you will own TC, a stock in an incipient uptrend at 3.55 per share. The return on invested capital for this trade is 135% if the options expire worthless.
Happy holidays!
Disclosure: I am long TC.
Additional disclosure: We are long TC by being short its put options. We may add to option positions using different calendar expiration months and the same or different strike prices in the coming days and weeks.