The stock market action was constructive to the bull case this week, though continues to add to, rather than decrease, risk of a terminal reversal. While the S&P500 challenged the 1500 level, the NASDAQ barely made any upside progress at all, in large part due to Apple's disappointing performance post earnings release. Volume also has yet to confirm the breakout moves.
The long term contrarian indicator (top portion of chart) has moved perilously close to the extreme overbought line, while the weekly ADX line continues to trend sideways. The ADX line MUST turn up and SOON if the bull is going to survive crossing the extreme overbought line. Any southward movement at all for stocks going forward would result in the ADX resuming its southward journey, triggering new sell signals from the contrarian indicators from extreme overbought conditions, and then the charts would look grim.
Indeed, the black circles highlight other high risk years where rally failures happened in the near-double top position led to some of the most painful and swift stock market collapses in modern history (1987 and 2007,) and the NASDAQ MUST smash above the red line to seal new highs to prevent such a catastrophe from repeating here.
Right now small and mid cap stocks - the kind I prefer to buy - continue to act splendidly, so all is not yet lost for the bulls, though I would feel a lot more confident re the overall situation once the NASDAQ moves to new highs and the ADX line turns up.
Till then, the super bearish Elliott Wave count, and black circle of death potential, will remain in play, and danger would then increase each day the stock market moved deeper into overbought territory.
Have a great weekend!
Kevin Wilde, Chief Trading Strategist AlphaKing.com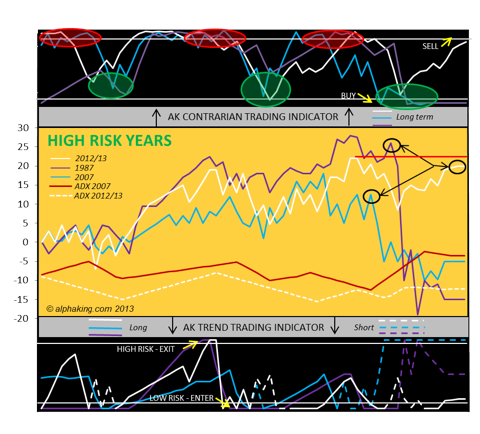 Disclosure: I am long QLD.