Last Wednesday I highlighted the VIX and McCellan Bollinger Band buy signals using a Buy Buy Buy tag line - white and yellow lines bottom of chart moving crossing above and below the red lines representing de-trended Bollinger Band extremes - and we have rallied just about every day since. The red arrows show the two examples when both the VIX and McCellan have made such twin trades in the recent past. The blue circle and arrow highlight the VIX moves, while the green circles mark the McCellan ones.
Right now the short term indicators are calm, neither overly bullish, nor overly bearish. The yellow circle highlights the daily ADX line continuing to rise, which prevents any overbought condition having any impact at this time.
I believe whether the NASDAQ can build on its recent breakout to find some acceleration that scares the bears into covering their losing short positions holds the key to whether the next few days and weeks are mired in some sideways corrective churn versus a significant running of the bull phase into month's end. The NASDAQ is acting well today, though the jury is out to lunch on that larger decision.
If you would like a six month free trial to my alphaking newsletter sign up for the 30 day trial at alphaking.com, click on the verification email, and we will adjust to six months. That's all there is to it. No credit card info needed, and we never do anything with the email addresses.
Kevin, Alphaking.com
(click to enlarge)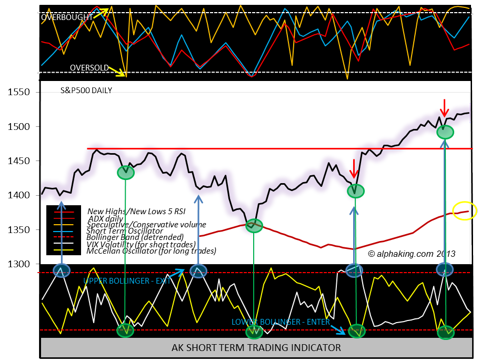 Click to enlarge
Disclosure: I am long QLD.