The yellow circle highlights the falling ADX line, which says to expect the stock market to oscillate back and forth overbought and oversold levels. The indicators at the top of the chart are indeed moving from the extreme overbought zone toward the extreme oversold one.
But I believe the more important story is the two indicators at the bottom of the chart - VIX and McCellan lines moving around de-trended Bollinger bands.
The VIX (white line) has triggered new exit shorts, enter longs, signals (blue circle,) while the McCellan (yellow line) has triggered new buy signals - double ones, actually, just the VIX - highlighted by the green circles. The red arrows mark the two past instances recently where both triggered new buys at the same time.
These two indicators suggest that traders became way too bearish way too quickly on the recent dip, selling like crazy while buying protective put options to hedge remaining positions. These indicators are contrarian in nature, meaning that once an extreme reading has been hit traders should expect a hard and fast move in the opposite direction.
More importantly, in the more intermediate term, is the S&P500 remaining above the red breakout line at 1466, as well as the red uptrend line.
If the S&P500 beaches those two levels - with both currently at 1466 - then the top for the bull market off the March 09 lows is likely in.
Till then, the bull is alive and well, with the short term indicator suggesting the next up-leg of the rally has already begun.
Kevin
If you would like a six month free trial to my alphaking newsletter sign up for the 30 day trial at alphaking.com, click on the verification email, and we will adjust to six months. I run four tracking portfolios - so lots of stocks to buy and sell! - as well as a 401K advisory for those looking to make and protect money in their retirement nest-egg.
(click to enlarge)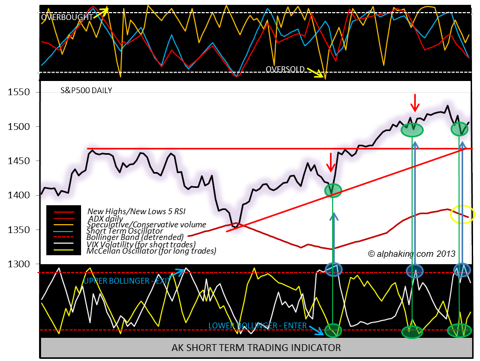 Click to enlarge
Disclosure: I am long QLD.