The blow-off bull continues, with this a pivotal week as the stock market either finds some acceleration Ooomph! that scares the bears into a short- covering panic, or the stock market hits a peak and reversal to end the good times.
The white volume line in the divergence/confirmation chart is acting much better, and would likely confirm the current rally were the NASDAQ 100 index (NASDAQ:QQQ) able to breakout above last year's high at 70.4. We closed at 68.97 yesterday.
The green weekly ADX line has turned up, and will stay that way so long as the market doesn't suffer a big reversal into the close on Friday. Contrarian overbought/oversold indicators do not work well when the ADX line is rising, so this is a welcome change for the bulls.
The new blue line is the number of stocks making new highs as a percentage total of all stocks traded, which is very useful at marking stock market lows - even in bear markets - as well as confirming (or not) rally attempts. During healthy bull moves the blue line quickly rockets above the overbought extreme - and stays there for a long time - while in bear markets the number of new highs fails to make such a bull confirming move. Right now new highs confirms the rally.
In short: the stock market blow-off has the chance to find some buy energy acceleration so long as the QQQs can breakout above 70.4, though risk of a peak and terminal reversal right here right now will remain with us while the Qs stay south of 70.4, and it is critically important from a bull perspective the charts stay away from significant red this week.
I believe this week will deliver a significant win for either the bulls or the bears...
Kevin
(click to enlarge)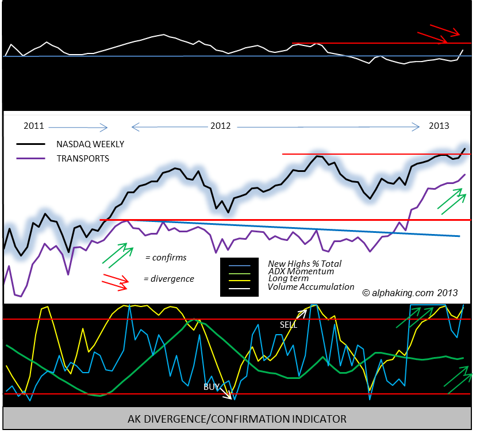 Click to enlarge
Disclosure: I am long QLD.