The news from Cyprus yesterday was terrible, yet the market did OK anyway. As I often say, it is the reaction to the news that has importance re future stock trends, rather than the news itself, and yesterday's reversal, along with a distinct lack of volume on the selling, suggests buyers have not yet exhausted themselves, nor sellers being convinced the top is in.
I have added the semiconductor ETF (SMH) to the divergence/confirmation chart (shown below.) There are three sets of green arrows marking rally confirming signs, and two sets of red arrows marking important divergences. The red arrows are volume accumulation failing to move to new highs (white line top of chart,) and the semis (SMH) remaining below their red breakout line.
Positive divergence from SMH back in early 09 was a HUGE sign the sell-off to new lows for other indexes back then was about to reverse to end the bear market. Right now we have the mirror view of that, with other indexes blasting to new highs while the semis lag.
All is not lost for the bulls yet, as yesterday's reversal can attest to. It would only take one serious week of rally to blast both the semis and volume to new highs.
One of the technical set-ups that made me believe in the bull potential late last year was the transports (purple line) smashing above the down-trending blue line, then later the red breakout line. What happened following those breakout was not a surprise to me, as the longer the base the more impressive the breakout run, and that is exactly what we got.
If the semis and volume were able to follow the recent breakout for the NASDAQ (black line,) then it is a very real possibility that the SMH and NASDAQ lines resemble the purple one of the transports post breakout a month or so from now.
Any failure of the semis to eclipse that red breakout line marked by the red arrow, and the top is likely in.
I continue to hold longs for now, expecting to aggressively move to cash sometime over the next five weeks.
Kevin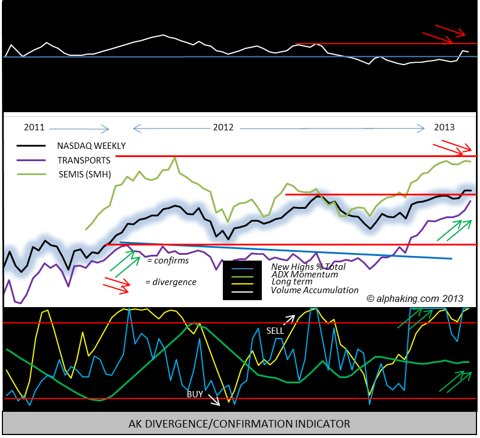 Disclosure: I am long QLD.