Shorter term trading is all about the technicals. Intermediate term trading is all about trends. Longer term trading is all about the fundamentals. The current technical action that sees stocks here and over in Europe hold up well despite signs of a global recession is unsustainable. Indeed, in the past when the stock market has risen in the face of weakening economic conditions stocks have ended playing a crashing catch-up.
The news yesterdayconfirms Europe is in recession, including German manufacturing, while Chinese stocks, along with industrial commodities such as copper, also point to a world of contraction. One can only wonder at the economic turmoil that will come with busted balance sheets all-over the world matched with very high unemployment as they meet a full-blown recession.
The economic data in the chart below shows the US economy remains above, though very close to, the recessionary 50 line. History of the global market place suggests it is simply a matter of time before the US succumbs to weakening economic conditions popping up around the world.
The white active money manager line (bottom of the chart) has started to move south from an extreme overbought condition, though the shorter term and intermediate term indicators suggest room for at least one more run to new highs for the blow-off.
Ultimately, fundamentals will win out, so holding stocks here should be viewed as enjoying the last of the autumn sun ahead of an economic winter that is fast approaching.
I continue to expect to exit all stock and ETFs sometime between next week and the third week of April.
Kevin
If you would like a six month free trial to my alphaking newsletter sign up for the 30 day trial at alphaking.com, click on the verification email, and we will adjust to six months. I run four tracking portfolios - so lots of stocks to buy and sell! - as well as a 401K advisory for those looking to make and protect money in their retirement nest-egg.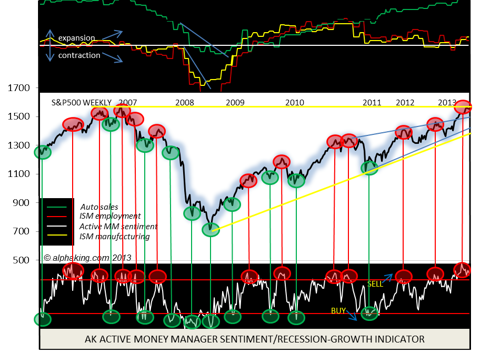 Disclosure: I am long QLD.