The pullback yesterday - on very low volume - leaves the stock indexes in fine shape for a rally into the end of the trading month on Thursday, which also marks the end of the first quarter. Any such rally has the potential to continue into the week after, and such window dressing buying at month and quarter end and beginning should be the prime driver of stock prices between now and then.
Nothing has changed with the divergence/confirmation chart below, with volume and SMH lines failing to confirm the rally, while new highs, transports, and weekly ADX do. SMH and volume line breakouts above their red lines of prior highs are needed to drive the broader stock market rally higher, and I intend to be out of all stocks and ETFs next week if such breakout confirmation fails to land before then.
Kevin
If you would like a six month free trial to my alphaking newsletter sign up for the 30 day trial at alphaking.com, click on the verification email, and we will adjust to six months. I run four tracking portfolios - so lots of stocks to buy and sell! - as well as a 401K advisory for those looking to make and protect money in their retirement nest-egg.
(click to enlarge)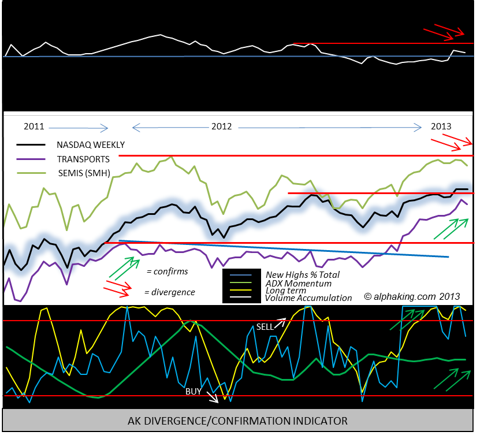 Click to enlarge
Disclosure: I am long QLD.