The blue circles in the chart below highlight how the contrarian indicators (top of chart) can remain over the extreme overbought line for an extended period when the ADX is rising, with a rising ADX confirming strong momentum with the trend. The red circles highlight what happens when the ADX turns lower while the contrarian indicators have been in overbought territory for a while.
We have a new red circle sell event (far right of the chart,) with the ADX officially rolling over last Friday, signaling very weak momentum with the trend.
That red circle sell set-up suggests the stock market faces a significant sell-off going forward, one that drives the contrarian indicators below the extreme oversold line. While the stock market has bucked corrective attempts all year, such bucking efforts were bolstered by a rising ADX. Now the ADX is falling, those contrarian indicators falling from an extreme overbought condition should exert themselves in a big way.
The short position and inverse ETFs I am adding Wednesday should be viewed as short term trades, and should be followed only by those investors and traders who understand and accept the additional risk betting on a falling market poses. The NASDAQ 100 ETF (QQQ) breaking above last week's high at 69.27 is my "I am wrong" signal on these trades, thus I am keeping them on a very short leash. The Qs closed at 68.68 yesterday.
Cash and money market funds are perfect for most investors when the stock market is in, or in danger of flipping into, sell mode, such as now. There should be a great buying opportunity coming out of the corrective mess the market faces, so patience, Grasshopper, patience...
Kevin
If you would like a six month free trial to my alphaking newsletter sign up for the 30 day trial at alphaking.com, click on the verification email, and we will adjust to six months. I run four tracking portfolios - so lots of stocks to buy and sell! - as well as a 401K advisory for those looking to make and protect money in their retirement nest-egg.
--------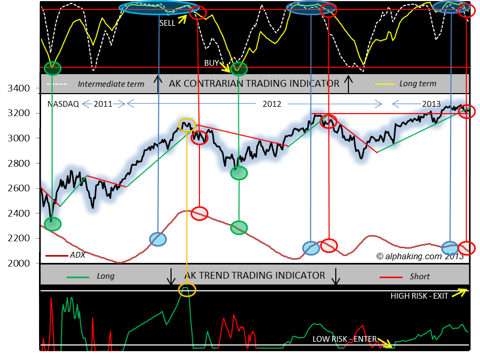 Disclosure: I have no positions in any stocks mentioned, and no plans to initiate any positions within the next 72 hours.