The third week of April most often is the stopping point for rallies when in high risk - blow-off bull - phases, with 10.8% the average profit going into the peak. I closed out my long positions last Friday for an 8.2% gain for the Index portfolio, and 11.6% for the GrQ/25 small cap portfolio. While I would have loved to have held onto those long positions to be able to enjoy yesterday, the potential 2% additional gains, versus the 10% or so profit giveback were the trend to turn negative before that additional last gasp rally, failed to offer the favorable risk/reward profile I seek when placing trades.
The NASDAQ 100 ETF (QQQ) closed at 70 yesterday, well above the "I'm wrong" 69.27 level I set for the short trades and inverse ETFs I placed, thus I am out of all those positions and back in cash. Big gains when right, small losses when wrong, is the name of the trading game, and there will be no shortage of trading opportunities to come.
(click to enlarge)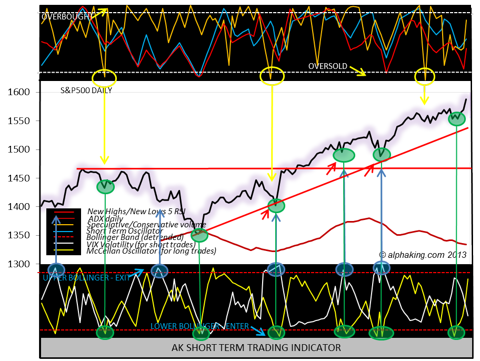 Click to enlarge
Indeed, the short term trading indicators are fast approaching extreme overbought levels, as the stock indexes finish up their rally off the last McCellan Oscillator/Bollinger Band buy from last Thursday (green circle far right of chart.)
Right now the most interesting technical aspect is whether the NASDAQ 100 ETF (QQQ) can eclipse the high of last year at 70.4 to scare the bears into another round of short-covering before the market succumbs to those fast approaching overbought sell signals from the short term indicators?
If they do, I may take another stab at trading on the long side, as there is a ton of short positions still residing in QQQ futures and ETFs that has been washed out of all other indexes.
If the Qs fail on their breakout quest, then we are looking at the mother of stock market peaks right here.
The S&P500 kissed the upper trend-line running along the 2000 and 2007 highs of a massive expanding triangle, highlighting a dramatic increase in risk of a terminal reversal, as the rules on triangles say the S&P is headed for a rapid retest of the lower trend-line running along the 2002 and 2009 lows, near 600.
Kevin
f you would like a six month free trial to my alphaking newsletter sign up for the 30 day trial at alphaking.com, click on the verification email, and we will adjust to six months. I run four tracking portfolios - so lots of stocks to buy and sell! - as well as a 401K advisory for those looking to make and protect money in their retirement nest-egg.
Disclosure: I have no positions in any stocks mentioned, and no plans to initiate any positions within the next 72 hours.