The chart below highlights the S&P500 finishing up the wave ii counter-trend rally. Any significant drop from here would confirm the third wave plunge has begun. The blue arrows positioned to the right of the red circles in the main body of the chart highlight where I believe the stock market is currently positioned. If so, selling should soon resume and quickly reach the acceleration phase.
On the political front, I believe the republicans wish to keep the government shut going into the more important debt ceiling deadline as they don't trust what the administration is saying about that date. They apparently wish to use crises to bring the democrats and the President to the negotiating table, something they have refused to do since the grand bargain discussions broke down in mid-2011. Thus get ready for crises…
Any rally pop to the red line of the prior breakout for the S&P500 shown in the chart below should be seen as a selling and shorting gift, as the internal wave count does not leave any upside potential beyond a touch and die at that level. So crash begins here, or after a touch of that red line near 1710 for the S&P500.
If you would like to track updates on my charts you can take a three month free trial to my alphaking newsletter. Simply sign up for the 30 day trial at alphaking.com, click on the verification email, and we will adjust to three months. I run four tracking portfolios - so lots of stocks to buy and sell! - as well as a 401K advisory for those looking to make and protect money in their retirement nest-egg.
Kevin(click to enlarge)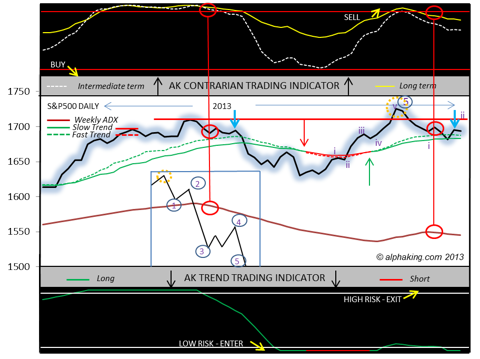 Click to enlarge
Disclosure: I am long PSQ.