The drop from the peak and subsequent rebound rally so far matches the 1929 experience closely, using 2X beta adjustment for the current Dow.
The red numbers on right at the 2014 Dow targets if we continue down the crash path.
Yesterday's pullback from peak lines up perfectly with the 1929 experience, and that pattern calls for an acceleration of the selling from this position.
While I believe it is fine for skeptics to scoff at such comparisons - while the trend remains up, as it currently does - I think great caution is warranted if the slide resumes and the trend turns negative.
Following the trend is the most effective way of ensuring one is positioned on the right side of all the big moves, whether that is an acceleration to the upside, or down into crashing misery.
If you would like to track updates on the chart shown below sign up at alphaking.com, click on the verification email, and get THREE months free access to my on-line newsletter.
-Kevin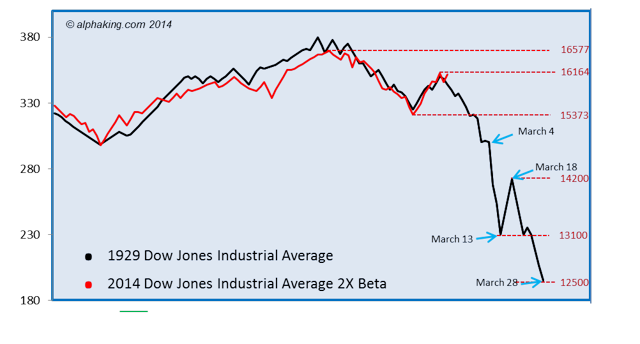 Disclosure: I am long QQQ.