No change in the technical set-up, where the trend remains up, though the short term indicators continue to signal a pullback to alleviate the overbought condition is likely on deck next, while the big money sentiment chart I show each Thursday remains on a red arrow sell, while the contrarian/ADX combo also remains on a red circle sell, which I show each Tuesday.
All of which says a conservative 50% allocation on the long side is the way to go - for my +200% thru -200% allocation model.
No change to the divergence/confirmation chart, which I show each Monday, with only the semis and McClellan Summation index offering green confirming arrows, while everything else remains in red arrow non-confirmation mode. Such divergence has not been seen in years, adding further technical evidence the "go cautious on the long side" stance of the AK strategy is the way to go at this tricky and potentially treacherous juncture.
If you would like to track updates on the chart shown below sign up at alphaking.com, click on the verification email, and get THREE months free access to my on-line newsletter.
-Kevin
(click to enlarge)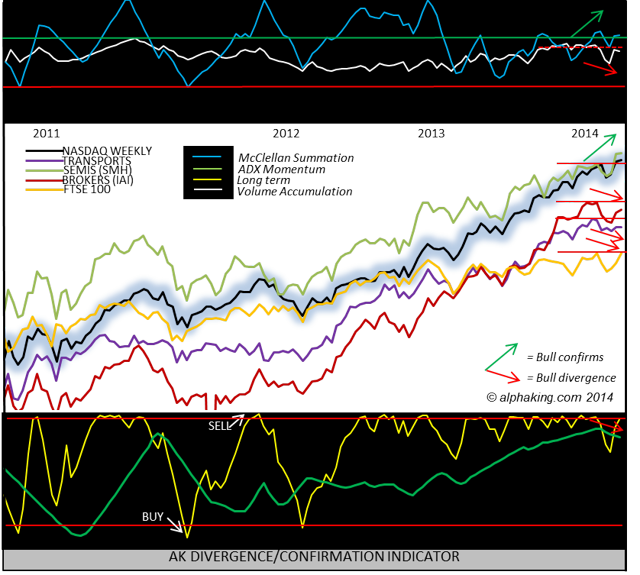 Click to enlarge
Disclosure: I am long QQQ.