The trend momentum power rating remains a mediocre 50% bull, as the number of bear at investor intelligence survey hits the lowest level ever, smack in-line for the five year anniversary the bull market. Note the super high number of bears going into the 2009 lows, exactly the opposite of what we have now.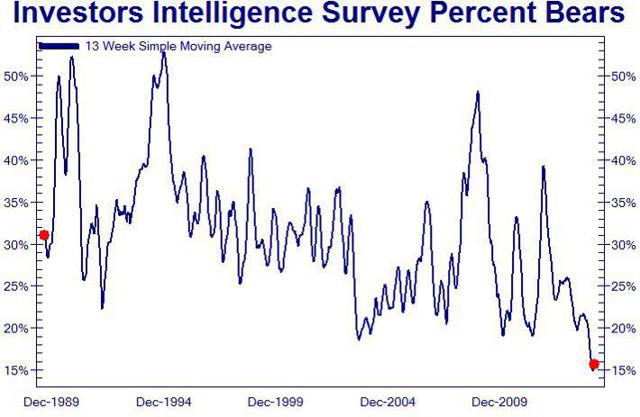 No change to the overall technical set-up, which remains very risky to be heavily invested on the long side, with the current optimal investment 50% long due to the trend being up, while the intermediate term, the short term, and investor sentiment remain in the negative sell camp.
The next significant development from the AK indicators is an expected negative turn for the hedging indicator later this week. When that happens I will buy TZA with 10% of portfolio values.
The next significant development after that, if the weakness continues, is the trend trading indicator in the next chart moving closer to the low risk - entry - line, which would be my cue to move long exposure from 50% long to 100% (hedged with TZA.)
On the major news front, we have the Crimea referendum vote on the 16th, which brings into question what the Ukraine military will do if voters elect to join Russia.
Three days later we will likely get the third bond tapering move from the FED, which potentially brings a Martin Zweig "three move and a stumble" transition from bull to bear.
I remain 50% long QQQ here, looking to increase exposure on an expected dip, and ready to go aggressively short if the two green lines for the NASDAQ trend turn negative, something they did not do all of last year.
If you would like to track updates on the chart shown below sign up at alphaking.com, click on the verification email, and get THREE months free access to my on-line newsletter.
-Kevin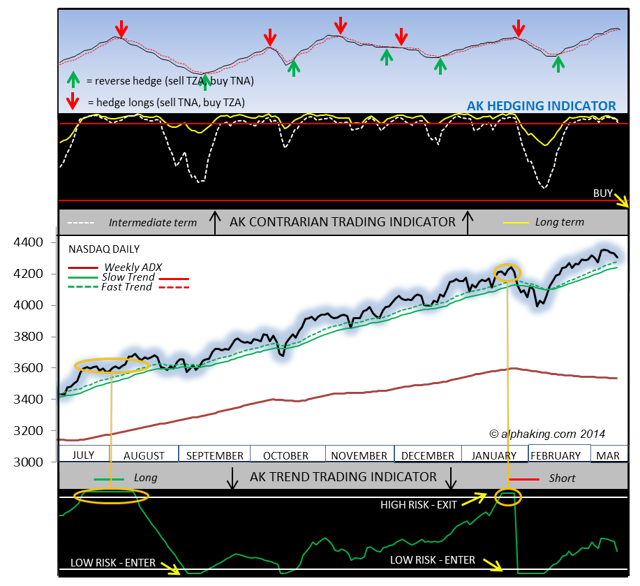 Disclosure: I am long QQQ.