As I mentioned last Friday, the major stock indexes rallied yesterday on a sell the rumor buy the fact news event surrounding the Crimea vote. Volume was pitifully low though, calling into question the longevity of the move.
The next news event is the FED two day meeting starting today, which brings us smack in line for a Martin Zweig "three moves and a stumble" event - and possible stock market peak - once they pull the trigger on their third tapering of QE bond purchases on Wednesday. A rally into that decision is likely to be a buy the rumor sell the fact event.
The chart of the short term indicators below also have Wednesday peak in sight, as the white line of the VIX has pulled back below the detrended Bollinger Band, triggering the first of an expected pair of buy signals from this very important fear/complacency indicator. The dotted blue lines and circles highlight the first VIX buys, while the solid blue lines and circles highlight the more important second.
Often, the pullback below the BB between the two last two days, and followed by a two to three day spike of the VIX back above the BB that sees the stock market make lower lows than the level seen on the first VIX BB spike.
Thus, a continuation of the rally into a Wednesday peak and reversal that sets up a hard sell-off post FED decision to close out the week looks on the cards on a buy the rumor (of the FED decision) sell the fact play.
If so, the AK indicators will highlight whether that second VIX spike marks an important bottom that should be bought with both fists, versus the start of the "big one" on the downside.
If you would like to track updates on the chart shown below sign up at alphaking.com, click on the verification email, and get THREE months free access to my on-line newsletter.
-Kevin
(click to enlarge)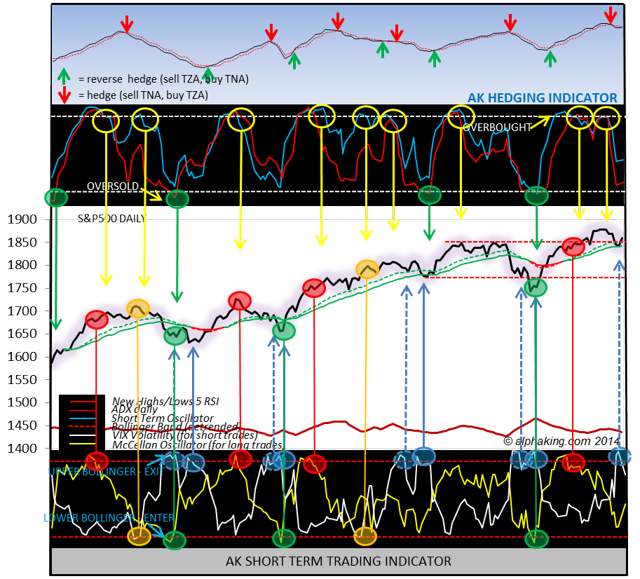 Click to enlarge
Disclosure: I am long QQQ.