The bull/bear cycle indicator turned down Monday for the first time since mid-2011 while in the high risk blow off bull position.
That usually indicates the end of the bull and the start of the next extreme risk - MAJOR bear market - phase.
2011 was a rare missed call in that regards, and so too 1998, though all other instances of the bull/bear cycle turning down landed prior to the worst bear markets in history beginning. I'm talking 1929, 1973, 1987, 2000, 2007 type of bear turns from the Bull/Bear Cycle indicator. And while both 2011 and 1998 proved to be missed bear calls, both suffered major corrective events near the frightening end of the fear spectrum.
So far the other indicators I use in trading are all a mish-mash of confliction that leaves me 100% invested though hedged, which is conservative exposure for me.
If the rally continues I expect to remove that hedge as the hedging indicator turns up, though exposure is unlikely to go beyond 100% long since the short term indicators remain north of the oversold extreme line, and investor sentiment remains extremely complacent and optimism, which is what one sees at tops not bottoms.
So I'm cautiously following the bulls as we pick up the last of the pennies ahead of the steam roller, though the turn of bull/bear cycle says we are backing up to a major cliff as we focus on those pennies.
If you would like to track updates on the chart shown below sign up at alphaking.com, click on the verification email, and get THREE months free access to my on-line newsletter.
-Kevin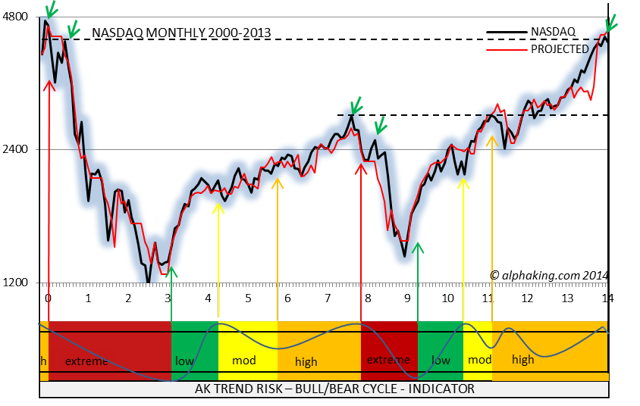 Disclosure: I am long QQQ, TZA.