The trend momentum power rating is reasonably strong 60% BEAR.
The trend remains down, confirmed with the negative stance of the hedging indicator - thus I continue to hold TTZA with 10% of portfolio value - while the contrarian indicators remain above the oversold extreme line (yellow line is the most important contrarian indicator at this juncture,) while the trend trading indicator near the bottom of the chart remains close to the low risk- entry - line (for short positions.)
No drastic change in allocation is expected till one or more of these indicators change to trigger a new trade.
The first expected change of the AK indicators remains the shorter term ones, which I will show and discuss tomorrow. They also currently remain above the oversold extreme buy line, thus too early for pruning short positions and inverse ETFs until they move into the buy position.
Note the dotted red line in the chart below represents the point where the NASDAQ would need to cross to confirm the next Great Bear has begun. Note also the ADX continues to trend down, and the bears are unlikely to score that big win till the ADX turns up while the trend is down.
That doesn't mean it won't turn up, or the stock market crash in the non-too-distant future. Just that the ADX hasn't yet turned up to set such a potential crash run in progress.
The overall allocation is 150% short the QQQ via a 75% investment in the leveraged inverse ETF, QID, in addition to the TZA mentioned above.
Any rally from this position should be seen as a gift to the bulls to lighten up on long positions, while the bears should be smacking their lips as they increase the amount of short exposure.
The selling flood-gates should open for real once the current rally falters and reverses to take out recent lows.
If you would like to track updates on the chart shown below sign up at alphaking.com, click on the verification email, and get THREE months free access to my on-line newsletter.
-Kevin
(click to enlarge)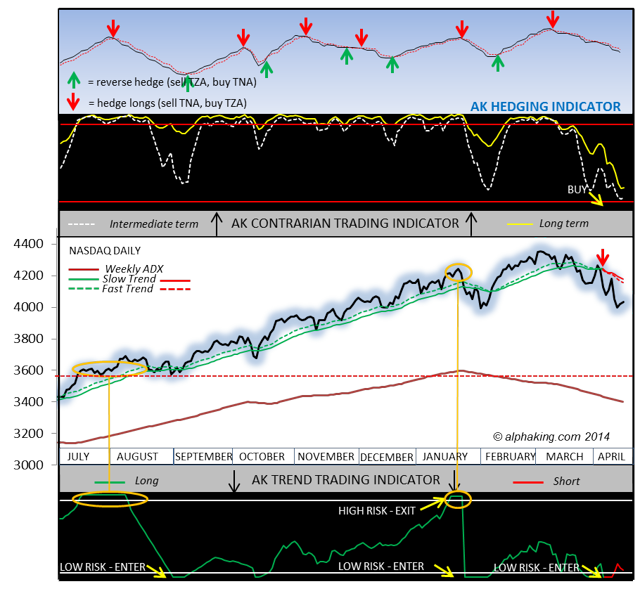 Click to enlarge
Disclosure: I am long QID, TZA.