Anyone watching Drunkenmiller's assessment on CNBC of FED and the economy? He is so spot on, IMHO... TZA, up to 10% of total portfolio values. ADX trend is (maroon line in the chart below.) ADX indicates strong momentum in-line with the trend, and then we can expect the contrarian indicators to remain above the extreme overbought line. ADX indicates weak momentum in-line with the trend, and then we can expect the contrarian indicators to move from overbought to oversold, back to overbought, till the ADX turns up again. ADX is flattening as the NASDAQ challenges its breakout line highlighted by the yellow line. ADX will turn up and the blow-off rally will resume. ADX will turn down and the contrarian indicators will plummet to the oversold zone as the stock market corrects - at a minimum - or begin a new bear phase.
Now to my take on the stock market:
The hedging indicator - which tracks performance of individual stocks - remains negative, thus my portfolio remains hedged with
Yesterday's action remains in-line with what I wrote last Friday about the 2007 and 1987 comparison where the bulls are fine so long as they defend recent breakout levels, and where the markets crash when those technical lines in the sand are breached in earnest.
The two primary way traders make or lose money is to either follow the trend - trend following - and be right or wrong going forward, or trade against the trend at extremes - contrarian - and be right or wrong going forward, and that is essentially what the chart below was designed to track and profit on.
One key element in the "trend follow versus contrarian" conundrum is what the weekly
A rising
A falling
Right now the
If the yellow line holds then the
If the yellow line is breached then the
Too early to tell which way the stock market will go, with the bulls defense of that yellow line critical to what happens next. Hence, hedging positions is the way to go till this trend/momentum dilemma is resolved, with the big money expected to be made when all investment ducks line up in the same direction.
A 1999 style blow-off is likely to land if the bulls hold above that yellow line, while a 1987 style crash is likely if the yellow line gets taken out.
If you would like to track updates on the chart shown below sign up at alphaking.com, click on the verification email, and get THREE months free access to my on-line newsletter.
-Kevin
(click to enlarge)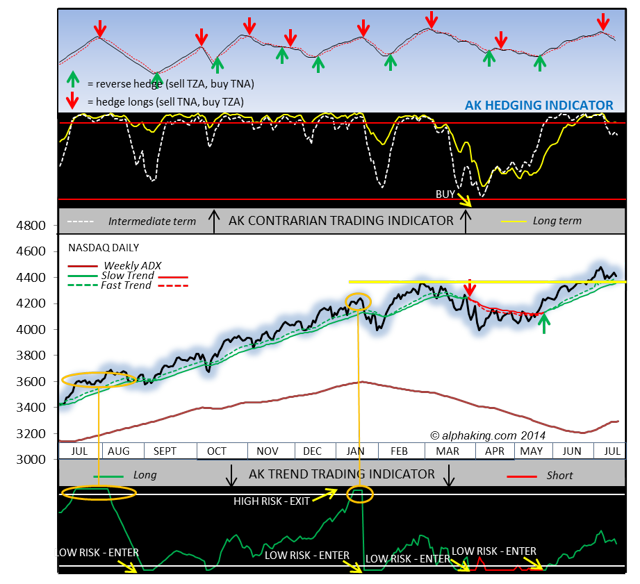 Click to enlarge
Disclosure: The author is long QQQ, TZA.