Introduction:
I just want to make one thing perfectly clear. As a Dividend Growth Investor, a company like Netflix (NASDAQ:NFLX) is not a company that I would choose as an investment. My reasons have nothing to do with my primary investment strategy. As a matter of fact, I use Netflix all the time. Sometimes, my cable provider does not offer a lot of the movies that I want to see, so very often we turn to Netflix to have access to a particular movie when we are all at the house and want to watch something new.
Netflix, however, gives investors a very nice insight into the world of stock market valuations and especially the world of stock market pundits. It's a very interesting world, one that you should be familiar with, and one that you should probably tune out of your investment decisions.
As you may or may not know, Netflix announced earnings today (October 21st). The results were better than expected and the stock was up $21.49 today, or 6.44%. That's pretty impressive, if you ask me. But that's only part of the story. In "after hours" trading, Netflix continued to advance in price. Checking a few minutes ago, the stock was up an additional $37.61 a share which is an additional 10.5% increase. The stock is listed at $392.50 as I write this.
What You Should Know:
I came across an article a few minutes ago that was written on October 18th. The title of the article is: "Netflix Is A Screaming Sell Amid Earnings Pressure." (Link:tinyurl.com/lphfew8 The author of the article has this to say about the company:
Netflix (NFLX) is set to report earnings on Monday. And the million-dollar questions for NFLX stock investors are whether it has made enough strides overseas and whether it can post the growth necessary to live up to its soaring valuation.

NFLX investors better prepare themselves for the answer to that question to be "no way."

That's because Netflix stock is facing a history of unprofitable foreign operations, increased content costs and the hard reality of a bandwidth bottleneck that will limit growth for NFLX as long as it relies on reliable high-speed Internet.

And while Netflix is racing to evolve its business in the long-term and admittedly has a strong core of subscribers that believe in the NFLX brand … the pain might start to materialize in Netflix earnings as soon as this fall, but definitely in 2014.
Now, it is not my intention to call out the author, nor is it my intention to criticize his opinions, relative to Netflix. My intentions are to point out a very disturbing trend in listening to stock market "gurus" who tell you what to buy or what to sell.
For every article like this one, there is an article that takes the other side, with the author telling you that a particular company is a "screaming buy." Somewhere in the middle, you might find some truth. Just don't be misled by these articles and buy into a particular "guru" promoting a particular stock.
Instead, the best practice that you can utilize as an investor, regardless of your own investment strategy is to do your own due diligence and to arrive at your metrics for determining individual stock valuation levels.
What You Should Know:
While we are discussing Netflix here, we could actually be substituting almost any company for the purposes of our discussion. Netflix just presents a very interesting picture. Let's look at the price history of this company.
(click to enlarge)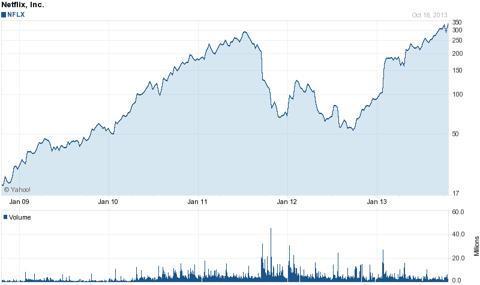 Click to enlarge
From 2008 through July of 2011, Netflix was on a tear, price wise. It went from $25 a share to almost $300 a share in that time frame. If you go back and look at the articles being written about this company, it was the best thing since "sliced bread."
But, the company decided to make some changes in its business model. The company decided to change its fee structure to subscribers and those subscribers did not like it one bit. By September of 2011, Netflix subscribers voted with their feet and some 800,000 of them said, "See you later." The price of the stock reached a low point, just under $55 a share.
I do not recommend stocks for you or anyone else to buy. I will write articles about what I might be doing in my own portfolios and update results on a regular basis. In no way am I recommending any stock at any time. Just telling you what's going on with my own investments.
When Netflix was a relatively "newborn" company, it might have been a company that I would have considered owning. My children, who were still living at home, were big fans of Netflix, because they didn't have to go to the store (Blockbuster) only to find that the movie that they wanted to see was out of stock and then having to settle on something else. They also didn't like to return the movies and I was always paying fees for being late on our rentals.
So, a company like Netflix shows up and you can get your movies in the mail. When you're done with the movie, just stick it back into the mail and you're done. Wash, rinse, repeat. This company had all the earmarks of a company that would be a Peter Lynch discovery.
When Netflix converted from movies in the mail, to movies streamed directly to your computer, the entire video rental industry was turned upside down. Netflix share price took off and into the stratosphere it went.
What I Know:
Netflix was a "perfect story." When you really dig into the numbers, the company is a financial analyst's dream. For Joe Retail investor, not so much. The downfall of the company was in not knowing what their customer base wanted from management. The price change, while not a "deal breaker" by any stretch, just made people who used the service go ballistic.
In some ways, it reminded me of the time when Coca-Cola (NYSE:KO) decided to change the formula so that the product would "taste more like Pepsi." Having lived through that nightmare, I have to tell you, it was not a pleasant experience.
Netflix bottomed out at around $55 a share. Now, some of the pundits were saying, Netflix is dead and others were saying Netflix will rise again. I have to admit that when the stock was trading under $60 a share, my intuitive nature began to lean in a direction that I refer to as the "dark side." (Growth stocks for the uninformed.)
But, truth be known, I did not move on this company, I did not purchase any stock, and I do not have any story to tell you about how I made a fortune with Netflix.
Things Too Consider:
In recent articles, I've discussed "thinking outside of the box." As a Dividend Growth Investor, my box is a very comfortable place for me. When I look at stocks to add to my portfolio, they are often times companies that pay a dividend and often times are members of the Dividend Champion, Contender, and Challenger lists.
Lately, I've looked at companies that are not CCC companies as "value" is getting a little hard to find in the more traditional circles of DG stocks. My methodology is quite simple, actually. I run a screen at Schwab and I format that screen to reflect my own criteria for selecting stocks. That screen produces a list of companies that meet the metrics of the screen, but the stocks that are produced by the screen are not all stocks that I am going to buy.
Instead the stocks produced by the screen are like a 50lb sack of potatoes. Inside that sack there are going to be some magnificent potatoes; there will be some nice potatoes; and there will be some really lousy potatoes. Going through the sack means that I will find some potatoes that will become baked, some that will end up as French fries, and some that will end up being mashed.
The screen just gives me a sack. My job, your job, is to filter through the sack and grade each potato relative to how you are going to use it.
As many of my readers are aware, I don't buy stocks all the time. The most discussed purchases that we've made in the last year were Safeway (NYSE:SWY), Staples (NASDAQ:SPLS), CA Technology (NASDAQ:CA), Western Union (NYSE:WU), CSX Corp (NYSE:CSX) and Norfolk Southern (NYSE:NSC).
Each of these companies were produced from a screen. There were plenty of other stocks besides these six in that screen. But what separated these stocks from the others was their value at the time that we purchased them. At that particular moment in time, these stocks, according to my own valuation methods were "screaming buys." But things change. The markets are always moving. Sometimes up, sometimes down, sometimes sideways.
Summary and Conclusion:
Just because these companies that we added to our portfolio presented a value back in November of 2012, does not mean that they are a value today. Just like Netflix represented a value back in September when the price was under $60 does not mean that it is a value today.
When we take the time to really dig into the fundamentals of a company, sometimes we find that a company we really want to own just doesn't make a lot of sense as an investment right now. I have to admit that sometimes I can get impatient, but once you start thinking outside of the box a little, you can find opportunities regardless of your own individual investment strategy.
In a nutshell, that old cliché of "buy low" makes more and more sense every day.
Disclosure: I am long CA, CSX, SPLS, WU, NSC. I wrote this article myself, and it expresses my own opinions. I am not receiving compensation for it (other than from Seeking Alpha). I have no business relationship with any company whose stock is mentioned in this article.