After failing at 1.6179 GBP/USD fell very strongly and dropped below the 200-day moving average by going as low as 1.5853. Similarly GBP/JPY failed below the psychological level of 145.00 and fell to 140.51 and went into a sideways mode after recovering to 142.96.
The recent economic releases show a weakness in Japanese export and industrial production. The recent economic releases from U.K. have not shown much weakness:
Graphical representation of the relative strength of last week's economic releases
GBP/USD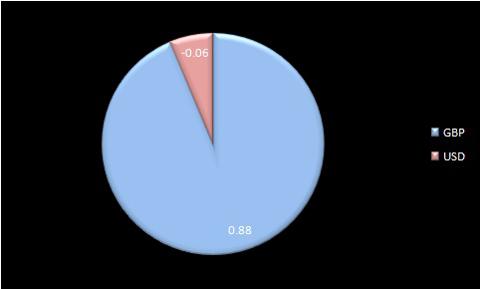 GBP/JPY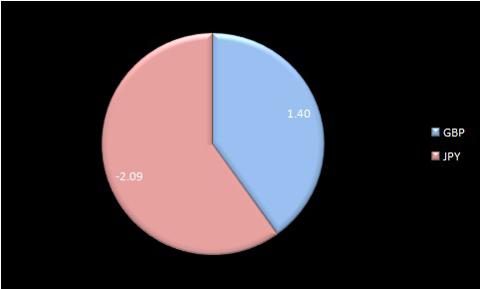 (economic Strength meter copyright ForexAbode.com)
What to expect during the next week for GBP/USD and GBP/JPY:
GBP/USD
The strong fall during the last week and the break of 200-day moving average brings in stronger bearish sentiments. The possibilities of further consolidation towards 1.5828 cannot be ignored. On one hand 1.5828 was the previous support and on the other hand it is also the 50% retracement of move from 1.5269 to 1.6381. In case GBP/USD moves below this then deeper moves towards 1.5690/1.5695 or the 61.8% retracement of the above mentioned upward gains will be expected.
The 200-day moving average is now expected to work as resistance and hence resistance should come near 1.5950. Any strong break over 1.5950 will neutralize the above mentioned outlook. Please check the price action of British pound versus US dollar.
GBP/JPY:
145.00 posed a strong resistance and GBP/JPY failed to break over that. On one hand this brings bearish sentiments but on the other side the continuous support of 5-week EMA arguments against that. A break of this support is critical as a sign of topping. If support at the recent 140.51 holds and a break over 145.81 comes then the pair should target 145.00 first and then probably 145.39. 149.39 is the 61.8% retracement of the move during from August 2009 (163.08) to 116.84. Any decisive break above that should target the 145.98 which had proved to be a strong resistance during the end of April 2010.
On the downside any break below 140.51 will represent a break of the above mentioned support of 5-week EMA but still the approaching 140.00 psychological support is expected to hold. In case 140.00 support is broken then further consolidation towards 139.40 of January 8th and even 138.20 i.e. near current 55-day EMA cannot be ignored. Please check the price action of British pound Versus Japanese Yen.
By: Himanshu Jain.
Disclosure: I have no positions in any stocks mentioned, and no plans to initiate any positions within the next 72 hours.