Centerra Gold Inc. (OTCPK:CADGF) is another of many gold producers that has suffered major declines in share price in the past 2 years, a combination of the effects of a drop in the price of gold and an increased concern over the political risk of operating in Kyrgyz Republic and Mongolia. From a high in the $20's in late 2011, the stock has dropped to less than $5 per share today, and has a market capitalization of only $ 1 billion despite having $370 million in cash and short term investments and another $250 million or so in gold inventory.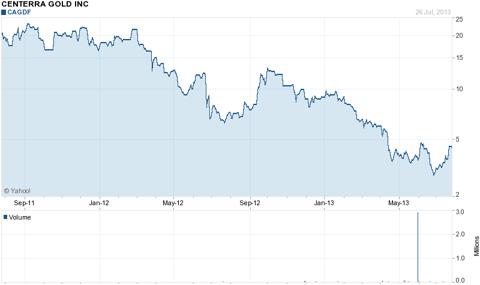 Centerra forecasts over 600,000 ounces of gold production in 2013 with an all-in cash cost of less than $1,150 per ounce, making it one of the few companies able to operate profitably at current gold prices. First quarter 2013 net income was over $50 million with production of 115,200 ounces of gold, and cash flow was over $90 million for the quarter. With some 11 million ounces of gold resources, Centerra as it exists today has a long life of well over 15 years.
When you subtract Centerra's $620 million cash and gold inventory from its market capitalization and adjust for about $100 million of short term debt and taxes payable, you see a company valued at only $500 million that trades at an extremely low multiple of earnings and cash flow.
The reason is country risk. SA author Itinerant set out the country risks for Centerra in an excellent article published May 21, 2013 suggesting that investors consider the stock, then trading at $3.55 per share. The stock has risen more than 30% since that article and seems to be trending upwards.
Investors who like gold might speculate that Centerra will continue to do well and take steps to mitigate the political risks. Centerra is in discussions today with the Kyrgyz government with respect to a transaction that would create a joint venture between the government and the company. According to the news release: "The parties were currently considering a potential restructuring transaction under which Kyrgyzaltyn JSC would exchange its 32.7% equity interest in Centerra for an interest of equivalent value in a JV company that would own the mine."
Such an event might reduce the political risk related to Centerra's Kumtor mine, its major asset, and put the stock back on a trend towards a valuation more in line with gold companies generally. At the same time, Centerra should benefit from any rise in gold prices and, with relatively low costs, not be hurt too badly by a continued slide in the precious metal to the extent that the gold price remains higher than its cash costs.
Centerra currently yields about 3% based on its current dividend of $0.04 quarterly which in my view is likely to continue to do so barring lower gold prices or an adverse outcome of its discussions with the Kyrgyz government.
I have been an investor in Centerra on and off but have no current position although I am considering buying into any dips.
Disclosure: I have no positions in any stocks mentioned, but may initiate a long position in OTCPK:CAGDF over the next 72 hours.