As any bridge player knows, it sometimes makes sense to review the bidding.
I wrote my first article on Apple (NASDAQ:AAPL) April 11, 2013 and at that time disclosed that I was short puts on 1,500 shares which is a long position. I shifted my feet shortly thereafter and on May 22, 2013 wrote my second Apple article disclosing my short position. I followed with a June 10, 2013 article and was still short. I wrote two articles in July and on the first disclosed that I was flat the stock but contemplated a straddle on the quarterly results which I thought might be uneventful. In my July 24, 2013 article I disclosed that I was short calls and on September 1, 2013 disclosed that I was short both calls and puts. On September 11, 2013 I wrote about Apple again disclosing that I was short both calls and puts with a January 2014 expiry both at $500 strike. On September 10, 2013 I wrote suggesting investors might short into the new product release. On September 15, 2013 I wrote another Apple article disclosing that I had increased my short calls while maintaining the short puts, again all at $500 strike for January 2014 expiry. On September 25, 2013 I wrote again on Apple disclosing that I had covered my short puts and remained short calls. I wrote my final article October 2, 2013 disclosing that I remained short January 2014 calls at $500 strike.
A lot of Apple investors wrote quite pointed comments attacking both my analysis of Apple and my investment strategy. While many people commenting were respectful of views that differed from their own, others were downright rude and in some cases libelous in their heated criticism. Others expressed concern that I might lose money.
From a detailed reading of all of the comments over the almost 6 months since my first Apple article, I can say that the vast majority of the 1,402 comments I received on the 12 articles I wrote were strongly in support of Apple and bullish on its share price.
Apple's stock performance has been mixed during the six months through September 30, 2013 but has since gained somewhat.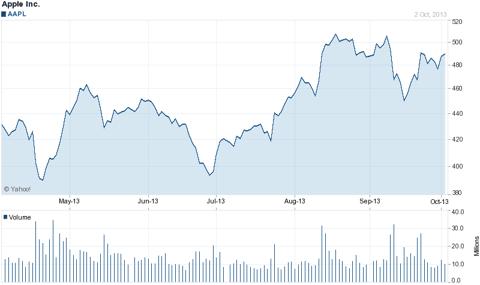 From April to May while I was bullish, the stock rose from about $380 to $460. Following my bearish article on May 22, 2013 the stock fell back to below $400 by July when I put on a straddle being short both puts and calls. The stock has rallied about 20% since then and I have covered my short puts at a profit and remain short calls at a $500 strike expiring in January. It remains to be seen whether this will be a profitable trade.
For those of you concerned about my well being, it has really not been painful, but thanks to you for all the concern and well wishes.
For those of you sharply critical of both my analysis and my investment strategy, well, I hope yours worked out well for you in any event. For those consistently long, you have seen both dividends and appreciation. For those who traded more or less as I described, you probably did all right as well. For those among you who bought shares on positive news, fear not, you might eventually see daylight if your hopes and dreams are realized as Apple unveils the magical products that will become the next "big thing". No one calls the market perfectly and not every trade will earn a profit. The value of SA is an exchange of information and ideas that will help us make better investment decisions. It is only of value if the people making the exchange are thoughtful, courteous, reasoned and objective. Most of you are; but some, not so much.
1,402 is a small but statistically reliable sample size. When the vast majority of investors are bullish on a stock the rise in the stock price is probably over and the stock is poised for a decline if it disappoints at any level. All investors should keep that in mind.
Many commentators indicated they were long term investors. My observation is that most long term retail investors became long term when their investment went under water and their goal became to hold on until they can at least recoup their investment. Professional traders see such investors as "sources of funds" at a minimum if not as prey. In the secondary markets every buyer needs a seller and every seller needs a buyer. Accordingly, I am thankful to those of you who took the other side of my trades.
Stocks are the only commodity I know of where they buyers want higher prices. If you are wondering who will be left holding the bag, it is you.
Happy investing.
Disclosure: I am short AAPL.
Additional disclosure: I am short January 2014 calls at $500 strike