Apple (NASDAQ:AAPL), Intel (NASDAQ:INTC) and Microsoft (NASDAQ:MSFT) have been my favourite big tech trades this year. They have not all been successful. Being short Apple was the least fun, costing me a cool $65,000 since May. The stock has been on fire and while I had some hedges, they were not enough to fend off the onslaught.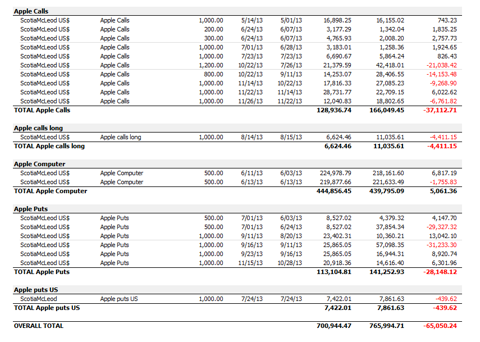 Intel has been more fun. The vast majority of my trades were in the black and when the dust settled I had a cool $247,000 in gains with another 180,000 long calls still to be closed. Maybe I will keep the gains and maybe I will give some back. I have until January 2015 to find out.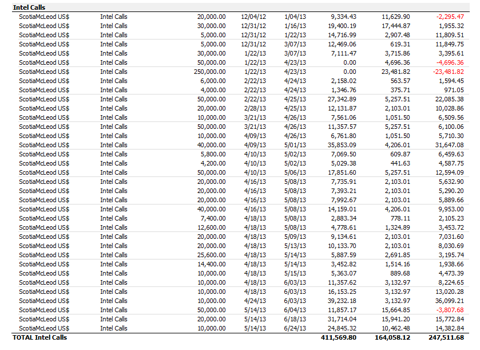 Microsoft has been the gift that keeps on giving. After a slow start in the fall of 2012 where I dropped quite a pile of money on the floor buying options that expired worthless, the stock started to move and my outsized call positions started to hit pay dirt. A gain of $310,000 is nothing to sneeze at. I am out of Microsoft at this point.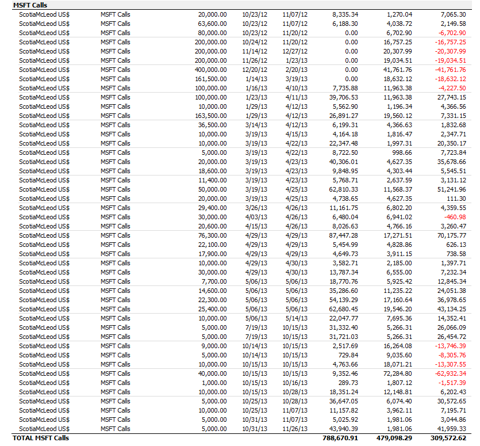 Trading options is not for the faint of heart. You can lose a lot of money if you are wrong, and I am wrong often enough to have had that experience. But when you are on the right side of the street, it has a nice feel to it.
For all of you who have from time to time expressed concern about my financial well being, some with genuine concern and others hoping I would suffer some calamity, thanks for all your warmth and understanding. For many, a half a million is chump change but for me it is a night or two on the town, a new car and a trip to Paris for a long weekend, with enough left over to keep in the game.
Disclosure: I am long INTC.
Additional disclosure: I hold calls on 180,000 INTC and puts on 1,000 AAPL.