Apple (NASDAQ:AAPL) fans are passionate about their views. They suffer from an evangelical dedication to a point of view that can tolerate no heresy. Here are some of their comments on an article I wrote which made the following statements:
Apple is the number one brand in the United States increasing its market share to 42% in the Christmas quarter.
Apple remains a much valued brand in China ranking first on Baidu's top searched smartphone brands.
Apple's brand appeals to fashion forward youngsters in China.
An iPhone 5S starts at 5,488 Yuan with China Mobile
The iPhone will be a prestige product to be sure, and Apple will sell quite a few of them.
As I have said in several articles on SA, Apple is a great company with great products entering the mature phase of its served markets where it is encountering serious competition.
Those assertions of fact should not have been controversial. In any event, I believe they are true.
Based on those facts, I expressed my opinion that Apple would sell fewer iPhones in China than most investors hoped and my judgment that relative to investor expectations the China Mobile launch was a "flop" in that it did not result in the same excitement that saw Apple sell 9 million iPhones when the new devices were first launched in the fall of 2013.
Here is a smattering of the responses from those who read the article and commented:
(click to enlarge)

Click to enlarge
(click to enlarge)

Click to enlarge
(click to enlarge)

Click to enlarge
(click to enlarge)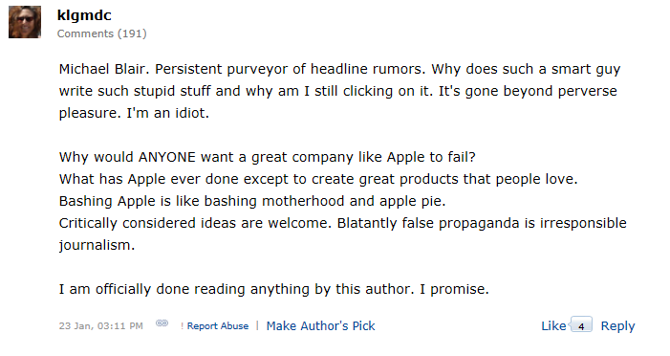 Click to enlarge
(click to enlarge)

Click to enlarge
(click to enlarge)

Click to enlarge
And my favourite comment:

Note that most of the comments above were endorsed with "Like's" by other readers. Apparently Apple investors really enjoy piling on when one of their contemporaries is particularly rude to someone.
The fact is my trades in Apple puts this year have been profitable for me generating returns of over 30% for a very short hold period.
(click to enlarge)

Click to enlarge
And, to put WeaponWilliam1's mind at ease, here is a photo of my home which I chose in preference to a van.
(click to enlarge)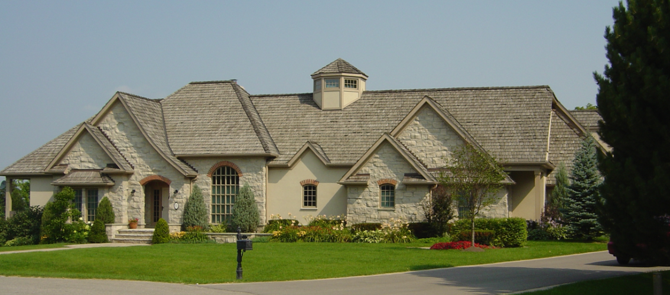 Click to enlarge
I wish you all well on your investments. I encourage you to keep reading and commenting. And, every now and then, take the time to add facts and analysis to the discussion and think about the example you are setting for your children when you go out of your way to be rude or inconsiderate to someone who has taken the time to share their views on something as important as where to invest for the future.
Children are likely to grow into adults much like their parents. Mine have, all top students and those who have completed grad school and are now in the workplace have since become multimillionaires in their early 30's. I guarantee you that their success did not come from taking cheap shots at people in a position to help them think through their investment decisions.
Best of luck in 2014.
Disclosure: I have no positions in any stocks mentioned, but may initiate a short position in AAPL, over the next 72 hours.