You all know my expectations for my High Yield Dividend Portfolio; I target a minimum 33% return on stock price *and* a minimum 10% for dividend yield. Seems to be working well so far…
I have added 3 new columns to the watch list; Buy Signal, K ("Kicked" or struck from list with number of times), and R (on most recent list with number of times). The whole idea is to show a ratio, so that when numbers in both K & R columns can be reduced by a common denominator, they probably should be reduced. If the number exceeds 9 for either column, the symbol '*' will be placed and in the case of a symbol being "kicked" or removed (NYSE:K) from the watch list it will be deleted. Numbers having been recently listed (NYSE:R) for more than 9 weeks will also have the symbol '*' placed, but the symbol will not be removed from the watchlist. These symbols might be considered stable performers. In the case of opposing '*' symbols, both would be replaced with the number 1 for each.
Although some of these symbols (with their ex-dividend dates shown) are showing 'buy signals' on the 3 month daily charts, I would probably be most predisposed to purchasing only those on the most recent watch list the most number of times;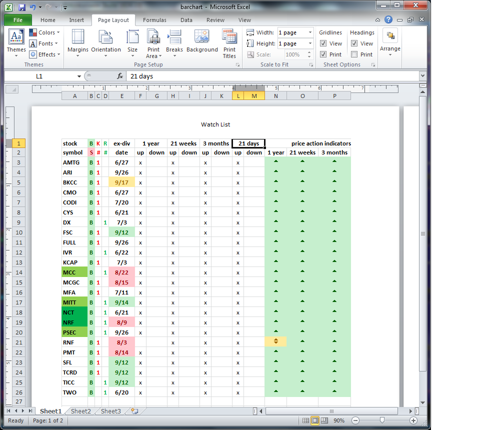 Notice the 2 dark green symbols, they were on the 75% screen
Notice the 2 light green symbols, they were on the 45% screen
All symbols with an entry in the 'R' column have recently passed the 33% screening. Some symbols are flashing buy signals.
But, you could also look at the ex-dividend dates if you felt like capturing some dividend. You could also just buy everything with a 'buy signal'. It's up to you, but I might do all of the above, or maybe not. It all depends on my mood Monday morning. So, to break it down, this is the list I'm going with for Monday's update (so far…);
AGNC AMTG IVR MCC MCGC NRF PSEC TWO
RNF is an MLP, and should not be used in any IRA due to tax complications. So, even though it's up about 100% for the year, I'm going to pass on buying *any* MLP stocks (except *MAYBE* for my regular brokerage).
BKCC ex-dividend is 9/17, so it's already too late to buy it to capture any dividend, but it is a 'buy' nonetheless. This will most likely NOT be true come Monday morning if the stock price should drop due to the ex-dividend price phenomenon. I already have some, so I'll pass on the buy this time…
sharebuilder buys once each week, generally on Tuesday, so the dates to look at first for capturing dividends are from Wednesday through next Tuesday.
Always be aware of ex-dividend dates:
9/12 sfl tcrd ticc
9/14 mitt
9/17 bkcc
9/19 agnc
9/20 ivr two
9/24 cys
9/26 amtg ari cmo full psec
10/11 fsc