You all know my expectations for my High Yield Dividend Portfolio; I target a minimum 33% return on stock price *and* a minimum 10% for dividend yield.
There have been quite a few changes in my screening lately, and the results have changed considerably. I also screen for a 45% return, and a 75% return as well as the 33% return. The results from the 75% screen also show up in the 45% screen, and results from both of those screens show up in the 33% screen. All screens look for a minimum 10% dividend yield.
When I first started screening this way, I was only looking at dividend yield and relied on chart work to try to catch stocks in an uptrend. Then, I started screening for the uptrend and started looking at annual returns as well. I started looking at 10% yield and 10% return. Today, if that criteria were used to run the screen the results would only be a little different. Instead of 8 symbols passing this initial screening, there would be 12. AI, DX, FSC, and NKA would be added.
I increased the return to 25% and ran the screen again. Slightly fewer symbols passed this initial screening and if it was run today there would only be one additional symbol; DX.
So, I increased the return criteria to 33% and have been using that ever since.
I put all results in a spreadsheet and I also still track price trends over 4 time periods; 1 year, 21 weeks, 3 months, and 21 days. All stocks are in an uptrend in each of those periods. Here's today's watch list;
(click to enlarge)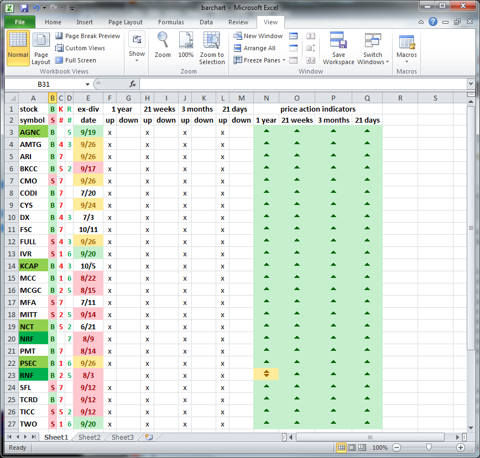 Click to enlarge
Notice the 2 dark green symbols, they were on the 75% screen.
Notice the 4 light green symbols, they were on the 45% screen.
I have added 3 new columns to the watch list; Buy Signal (Linear Regression Reversal), K (number of times "Kicked" or 'struck out' and did not pass screening), and R (number of times passed screening Recently).
There's no way to infer which symbols passed the most recent screening except by comparing to a previous watch list. Since the watch list is updated in real time here on the blog, there's no way to determine the most recent 'passing list' unless I tell you.
Here's the 'pass list'; agnc amtg kcap mcgc nct nrf psec rnf
These symbols (with their ex-dividend dates shown) are sometimes showing 'buy signals' on the 3 month daily charts, so I would probably be most predisposed to purchasing those. Or not, depends on my mood and the 'market mood' and the market is one moody bitch. But, I digress…
You could also look at the ex-dividend dates if you felt like capturing some dividend. You could also just buy everything with a 'buy signal'. It's up to you. I might do all of the above, or maybe not. It all depends on my mood in the morning. So, to break it down, this is the list I'm going with for today's update (so far…);
AGNC AMTG KCAP MCGC NCT NRF PSEC RNF
I think today is the first time that the 'pass list' is also the 'buy list' with all 8 symbols flashing a 'buy signal'.
There are other symbols flashing 'buy', but they did not pass the most recent screen.
I may be removing some symbols from the watch list soon, probably as early as this weekend. I think I might remove; ARI, CMO, CODI, CYS, FSC, MFA, PMT, SFL, & TCRD unless they pass an initial screen before this weekend. I have to think more about this, though. "Don't be hasty" as Treebeard would say.
RNF is an MLP, and should not be used in any IRA due to tax complications. I read that on the internet. So, even though it's up about 100% for the year, I'm going to pass on buying *any* MLP stocks (except *MAYBE* for my regular brokerage).
AGNC ex-dividend is 9/19, so it's not too late to buy it to capture the dividend.
IVR and TWO ex-dividend is 9/20.
CYS ex-dividend is 9/24.
If you use sharebuilder for your broker, and you have setup an AIP (Automatic Investment Plan) you have to realize that sharebuilder buys only once each week, and it's generally on a Tuesday, so the dates to look at first for capturing dividends are from Wednesday through next Tuesday if you invest weekly as I do. If you don't invest weekly, then you must look further out if you primarily want to capture dividends.
Always be aware of ex-dividend dates:
9/12 sfl tcrd ticc
9/14 mitt
9/17 bkcc
9/19 agnc
9/20 ivr two
9/24 cys
9/26 amtg ari cmo full psec
10/5 kcap
10/11 fsc