This morning's released additions to US Non-Farm job payrolls for the month of January were 100,000 LESS than the consensus estimate. Commodities, particularly oil and refined energy products, took it on the chin.
Another factor causing crude weakness was the advent of peace breaking out in Tahrir Square in Cairo today, and talk that President Hosni Mubarak may agree to step down, at least in name. These prices at 12:15pm:
March WTI Crude Oil (NYSEARCA:OIL) at $88.75 down $1.79 (2%)
March Heating Oil at $2.715 down 5.24 cents (2%)
March RBOB at $2.432 down 7.2 cents (3%)
According to Bloomberg News Service, 886,000 Americans didn't show up for work due to bad weather, versus an average of 282,000 in the five preceding January's.
Weather was terrible on the US Northeast Coast just after the Christmas holidays, with massive flight interruptions. The weather has been snowy all month, and this week's storm added to the misery.
People not driving to work reduces gasoline consumption, and Wednesday the EIA reported a 6.2 million bbl jump in gasoline blending component inventories for the week ending January 28, 2011. The API had reported a gain of 1.7 million bbls the day before.
Flight cancellations and other travel interruptions directly impact demand for the aircraft fuel kerajet, a distillate similar to heating oil. We saw international air travel disrupted in the UK and the US over the holiday season and again this week.
The drop in kerajet is offset by cold weather usage of heating oils. The EIA reported a drop of 1.6 million bbls of distillates.
Overall product demand in the US has notched down to 19 million bbls per day in the month of January after running at a 19.5 million rate a couple of months ago.
Gold (NYSEARCA:GLD) is also down today, with Feb futures at $1,347.20, down $5.10, after a spirited rally yesterday.
For oil and gold bulls, peaceful negotiation in Egypt, which is the latest billing, is a dirty phrase.  
Traders looking for an "event" such as a political overthrow in Egypt, the Suez-Med pipeline being bombed, the Suez canal being attacked or closed, have been sorely disappointed.
Another bearish factor is that China entered a week long holiday yesterday, so the biggest source of crude oil demand growth, has probably slowed down its purchasing for the short-term.
Where does this leave commodity bulls, other than hanging out in the wind?
I believe we still have a significant chance of an "event". Yesterday's bloody riots were probably a prelude and predictable.
I've often heard the expression "do not trust Greeks bearing gifts".
We'll, I'd extend that dubious honor to our brothers and sisters on the other side of the Mediterranean. There is still a large chance the situation in Egypt could devolve into armed strife, creating consternation amongst the Western powers, and anxiety and unrest in other Arab nations.
Therefore, it is worth owning a crude oil play, particularly one that is leveraged to Brent grades.
Trading Note: Nexen Inc. (NXY)


The fact Opti-Canada has hired an investment advisor to explore its capital structure alternatives was taken as a sign the company is under financial distress and probably going bankrupt.
I looked over Opti-Canada just a few weeks ago, and was very aware their $2.7 billion debt represented a threat to their survival. The stock (OPC-TSX) was 78 cents a few weeks ago and is now 36 cents.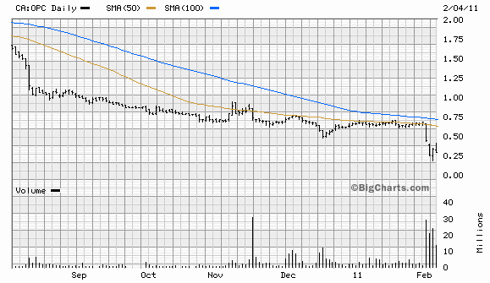 Click to enlarge
The market sold Nexen aggressively yesterday due to concern the Company will buyout the 35% of the Long Lake project that will become available during any Opti-Canada financial restructuring.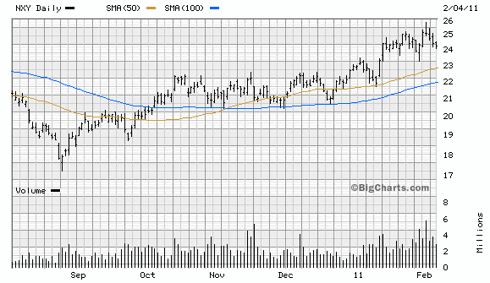 Click to enlarge
The market is probably also concerned Nexen will not be able to have a partner to finance future stages of Long Lake expansion, including the Kinosis project.
We believe every diamond in the rough has some dirt on it. Nexen suffers from its prior problems at Long Lake and outages at Buzzard in the North Sea, many of which have been out of its control.
But we forecast Nexen to generate over 50% of its after-royalty production from the North Sea during 2011.
This production alone, at $90 Brent and at annual rate at the low end of corporate guidance and running for only 300 days of the year due to unexpected outages and maintenance downtime, would still generate Nexen over $2 billion in after tax cash flow. Brent crude is currently at $100/bbl.
A worst case scenario for North Sea production sees Nexen earning $3.80 per share in cash flow just from that area.
Nexen reports Q4 and 2010 earnings on February 17. We expect production volumes to have been down to 99K bpd in the North Sea from 106.3 in Q3 as a fourth platform at Buzzard, their largest field there, was tied in. Overall volumes should be down 5%. However, we expect Q4 CFPS of $ 1.05 and full year 2010 CFPS of $4.05 due to higher pricing.
Nexen @ $23.99 is trading at 6 times 2010e CFPS versus 10.5 for Suncor @ $41.54 (NYSE:SU) and 12.9 for Imperial Oil @ $45.66 (NYSEMKT:IMO), albeit integrated producers always trade at higher multiples than pure E&P companies. Our 2011 estimate for Nexen is $5.50 - the stock is trading at 4.4 times versus 9.2 for Imperial Oil and 7.7 times for Suncor (annualized Q4 2010 basis).



This assumes Nexen can renew its extension of the Masila block in Yemen. Obviously negotiations with the government have been delayed as the President Saleh there is trying to control his own problems of civil unrest. We expect the US to make sure Yemen does not fall into upheaval similar to that in Egypt, due to its strategic importance in the fight against Al Qaeda.

 

On a cash flow basis, Nexen is cheap, because sentiment against it has been so negative.
For the time being we are trading Nexen, selling above $24.75 and buying on weakness below $24. Our medium term target is $33 CDN. We also believe Nexen is takeover material for a Chinese corporate or sovereign, or Royal Dutch Shell (RDS), their partner in Nigeria.
Disclosure:
I am long
NXY
.
Additional disclosure:
The BCMI Report is disseminated to clients and subscribers anywhere from 12 to 24 hours in advance of appearing on Seeking Alpha.