Wow, what a fire storm I started with my article on the share distribution related to the American Airlines and United Airline merger here. Within minutes of publishing I had messages demanding a retraction, insulting my intelligence, and even questioning my birth legitimacy. Talk about shooting the messenger.
This follow up will first clarify my original assumptions and highlight my lack of prudent judgment associated with those assumptions, relate additional information related to subsequent distributions certain stakeholders may receive, and highlight the remaining risks to the mid-term price of America Airlines Group (NASDAQ:AAL).
Prior Assumptions
This past Monday, December 9th marked the closing of the merger and therefore the conversion of United Airlines (LCC) and first distribution to AMR (AAMRQ) stakeholders. For common shareholders, conversion was 1:1 for LLC and 1 for 0.0665 AAMRQ.
Because there had been no trading history on the new common for American Airlines Group , and because the conversion rate was 1:1 for LCC, I reasonably assumed that the price of AAL would seek the prior fair value of LCC, near the $22.55 dollar level. I also assumed that stakeholders, specifically employees and creditors would begin to liquidate their common shares after settlement, December 12th. Now, since those stakeholders (employees and creditors) were to be issued the vast majority of the new shares (more than 70%), selling pressure would further drive the per share price well below fair value and into oversold territory. The assumption would be that share price would drop below $20, into the mid to upper teens. Were that to happen, the probability of additional distributions to holders of the old common stock were very low.
Please note, there is no question about the additional distribution to the remaining stakeholders (employees and creditors). As a matter of fact, it is those very distributions that necessitates the withholding of shares and predicates future distribution based on the trading history of AAL at the 30, 60, 90, and 120 day mark.
Determinants of the Distribution
Each of the stakeholders associate with the old AMR, with the exception of common equity holders have a known amount they are to receive. With respect to Employees, or Labor, they will receive a fixed percentage of outstanding stock; 23.6%. With respect to creditors, they will receive a fixed dollar value of common stock based on average selling price of AAL to satisfy their authorized claims. A summary of unsecured claims is listed below.
(AMR unsecured)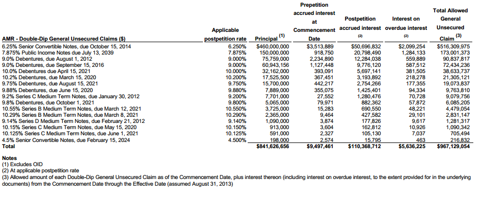 (American unsecured)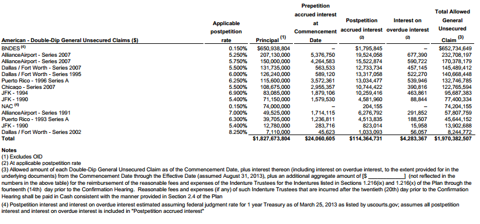 (American unsecured)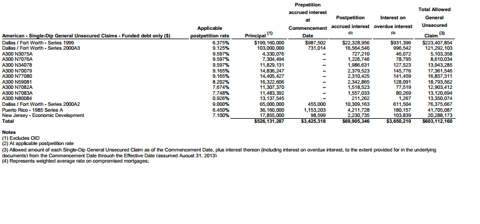 In order to satisfy all the claims against AMR and American, the bankruptcy court has ordered that shares be withheld from the initial distribution. This is the pool of assets that will be used to pay creditors and compensate non-equity stakeholders throughout the settlement period. Since creditors are to be compensated with new equity, the higher the stock price, the fewer the number of shares that will be needed to satisfy the claim. Meanwhile, over the course of the settlement period, additional distributions will need to be made to employees and the unions to maintain their percentage of equity ownership established by the court order. Over time, these claims will reduce the pool of equity until everything has been satisfied.
Whatever is left over goes to common shareholder of the old AMR Corporation. At the current price (over $26 per share) that could result in a considerable gain relative to last Friday's closing price. Were the share price to drop significantly (below $20 per share), that could result in a considerable loss.
Revised Outlook and Summary
Provided shares of American Airline Group remain high enough to satisfy creditors' claims, old shareholders of AAMRQ can expect to receive additional distributions of new common shares. These distributions may occur at the 30, 60, 90, and/or 120 day marks. Now that the new shares are trading, I freely admit that by prior fears have somewhat abated. I erroneously presumed that the probability of future distributions was minimal, but given the prior few days trading history, it is looking more and more likely that additional distributions will happen, and may end up being significantly more than what the market was anticipating last week.
However, even though my pessimistic outlook from Monday is looking less and less likely, the probability still exists. If those creditors decide to sell their common shares to recapture invested capital, it would put downward pressure on the stock price and would reduce the number of shares available for distribution to old common shareholders. Pushed low enough, AAMRQ shareholders of record could receive nothing more than what they already have.
Criticize me for my ultra-conservative prior outlook if you want, but differences in opinion are what makes our markets work.
Disclosure: I have no positions in any stocks mentioned, and no plans to initiate any positions within the next 72 hours. I wrote this article myself, and it expresses my own opinions. I am not receiving compensation for it. I have no business relationship with any company whose stock is mentioned in this article.