This play was posted Tuesday, April 12, 2011 at scottrends.com:

"Buy trigger for (ESLR) is above 1.36 adding more above
1.50 for a trade up to 2.00. 2nd target is at 2.50.
Small caps may start to run if nothing else is moving
so look for volume start to kick in gear. Keep a stop at
1.25"
Green is good!!!  We were ahead of the curve on the news that China's Energy Research Institute is calling for the Government to double solar plans set for 2015 following Fukushima incident.  This play was based purely on the technical setup that we saw, but it appears that this news may have helped give it a jumpstart.
While the stock has not yet hit our first target of 2.00, we remain bullish and hold this stock in our portfolio. 
(ESLR)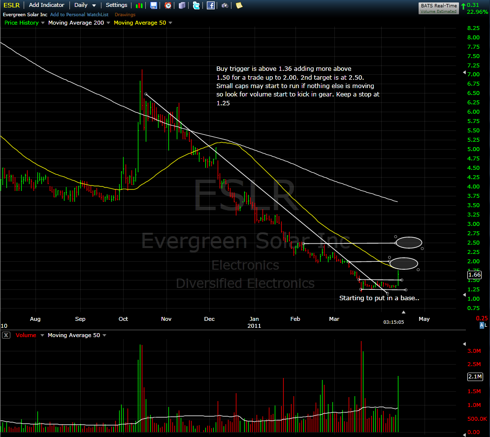 Click to enlarge
SCOTtrends.com, LLC (NYSE:ST) publishes information that is educational in nature and designed to contribute to one's overall understanding of various types of technical analysis and how to apply this information to the financial markets. We are in no way recommending the purchase, sale or short sale of any securities, options, futures or other financial instruments. Trading involves the risk of loss as well as possibility of profit. Past performance is not a guarantee of future results. All investments and trades carry risk, and all trading decisions of an individual remain the responsibility of that individual. You expressly acknowledge and agree that the use of the information and data is at your own risk, and that SCOTtrend.com, LLC is not liable for any consequential, incidental, or special damages including, but not limited to, any lost profits or trading losses arising out of or relating to the use or inability to use the data and information provided.