U.S gold prices higher on Tuesday as demand waned for gold-backed exchange-traded funds and investors continued to digest the effect of wide-ranging US government spending cuts on bullion. Gold opened at 1572.70 after created high at 1583.20 and currently trading near 1580.10. The SPDR gold trust notched on outflow of 0.6 tones on Friday, extending its losing streak after reporting the biggest ever on-month drop in February.
Gold prices in February fell for a fifty straight month for the first time since 1997. Buying interest has tedious up after the metal failed to rally back toward record highs last year despite successive rounds of monetary easing from the Federal Reserve. Gold mining stocks took a hit too as bullion tumbled. The S&P GSCI Gold Index (A Gold Equities Benchmark) Also posted a five month losing streak in February for its longest consecutive monthly decline since 1996 when gold ETF were lackluster, sales of American Eagle coin and silver rose sharply YOY in February,
* Gold Technical Trend
3 Years Gold Technical Chart (With IC Indicator)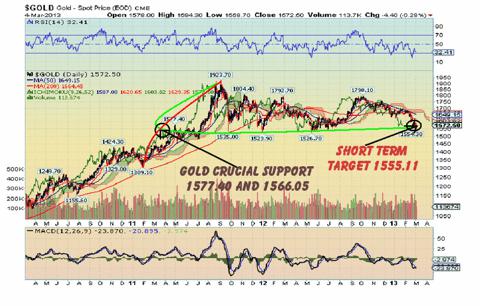 Gold future for April delivery settled up 10 cents per ounce at 1572.40, with trading volume about 30 percent below its 250 day average. Yesterday gold given weak close below 1572.75 its signal that selling pressure in gold may continue. Gold April future creates on 3 years chart a format of head and shoulders as a reversal in an up trend who gives a sign of selling at will continue below near crucial resistance 1594.28. You can see more up side with target 1603.95 and 1613.21 if it crosses and giving close on 1594.28. Gold may glide below 1542.55 if it breaks its crucial support of 1566.03. IC Indicator indicated that gold chikou span may complete at 1535.11 on 3 years chart. if near leading span 1577.40 break in intraday so gold may hit once again 1566.05.Gold near strong support 1566.05.Recently gold trading above 3 days EMA and SMA.
Traders Should Follow The Levels Given Below
Bullish Trend - 1594.28 - 1603.95 - 1613.21
Bearish Trend -- 1577.40 - 1566.05 - 1555.11
==============================