Company Overview (Charisma)
Pluristem Therapeutics Inc. (NASDAQ: PSTI) is a clinical-stage biotechnology company using placental cells and a unique, proprietary, three-dimensional (3D) technology platform to develop cell therapies for a broad spectrum of diseases.
Pluristem derives its cell products from human placental cells. These cells are converted into PLacental eXpanded (NYSEMKT:PLX) cells, which secrete therapeutic proteins in response to signals produced by damaged tissues. Pluristem's rich pipeline targets multiple indications involving inflammation and ischemia, including peripheral artery disease, muscle injury, preeclampsia, and graft versus host disease with huge unmet medical needs and tremendous global markets with billions of potential revenues. PLX cells require no tissue matching prior to administration, making them an "off-the-shelf" product.
The company's GMP-certified in-house manufacturing facilities allow it to efficiently produce commercial quantities of homogeneous, clinical-grade PLX cells. Pluristem is currently the only company manufacturing large quantities of placenta-based cell products using a 3D bioreactor. Driving these development efforts is a management team dedicated to shaping the future of the company and of placenta-based cell therapies. The Pluristem team has many decades of industry and research experience and draws on this as it continues to progress towards company goals.
The mission of the company is to become the world leader in developing and manufacturing cell therapy products. The company currently has about 165 employees (17 PhDs, 3 MDs) and over 30 granted patents as well as 100 pending applications.
Financial (Cash)
Since concern of dilution is one of the primary causes for the previous unfounded sale of the stock, I'd like to address it first. Below is the latest financial summary of the company.
Market Cap

183 million as of 8/8/14 market closing

Cash & Equivalents

64 million (as of March 2014)

Annual cash burn rate

~ 25 million

In addition, the company has no debt and no royalty liability (other than Israeli government).
As we can see, contrary to the short-term need for additional financing, the company as a matter of fact has a very strong balance sheet with cash runway all the way into 2016. In addition, the company has secured a whole lot of strategic and academic partnerships in the past as well as government grants which altogether will further provide capital if needed. For example, at the end of this April, the company announced that it had received approval for an approximately $4.2 million grant from the Office of the Chief Scientist (OCS) within the Israeli Ministry of Economy. Once received, the grant will be used to cover R&D expenses in 2014.
Near-Term Catalysts
Below is a summary of major catalysts in 2014
| | | |
| --- | --- | --- |
| Near-Term Catalysts | Timeframe | Status |
| Results of phase II muscle injury study - Germany | 1H/2014 | Completed |
| PEI approval of MP2/MP3 comparability studies | 1H/2014 | Completed |
| FDA approval of MP2/MP3 comparability studies | 1H/2014 | Completed |
| Initiation of phase II IC study - South Korea | 1H/2014 | Completed |
| FDA and/or Israel ministry of Health approval of phase I/II Preeclampsia study | 2H/2014 |   |
| South Korea FDA approval of Phase II/III CLI study | 2H/2014 |   |
| FDA and/or Israel ministry of Health approval of Phase II in orthopedic indication - rotator cuff repair | 2H/2014 |   |
| United Therapeutics - phase I PAH low dose safety study-- Australia | 1H/2015 |   |
Technical Analysis
(click to enlarge)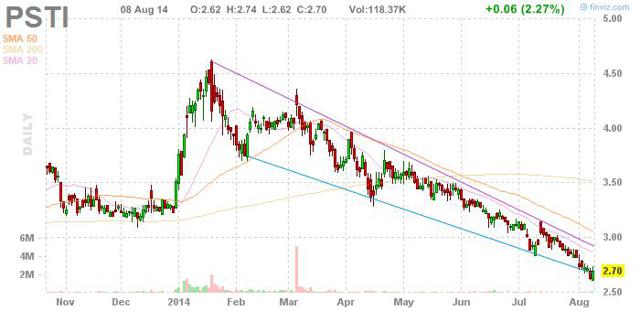 Click to enlarge
(click to enlarge)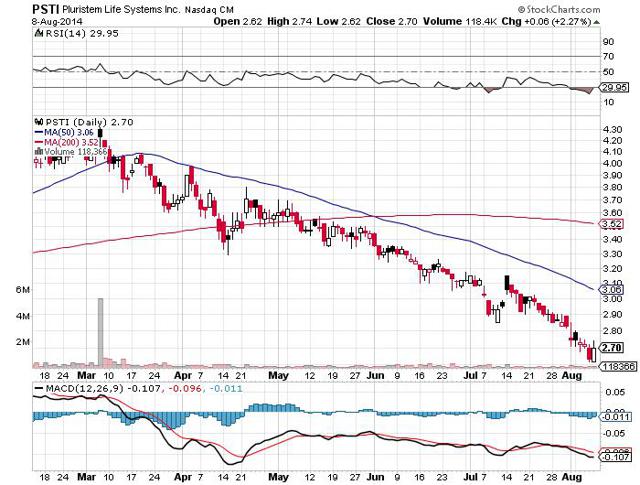 Click to enlarge
As shown above, the stock price has seen a nice run-up all the way to its 52-week high of $4.63 following a series of positive news at the beginning of this year. Since then, due to several combining factors including aforementioned concern of dilution, impatience of some retail investors, along with the general market correction, the stock price has dropped gradually and recently reached its 52-week low of $2.62. While it remains to be seen whether the stock has found its bottom, multiple technical indicators such as RSI at below-30 level clearly indicate that the stock is way oversold at current price, especially for a company with "Cash, Catalysts and Charisma" (the three C's of biotech investment).
Final Thoughts
The company is committed to the development of new innovative cell-based pharmaceuticals based on its proprietary PLacental expanded (PLX) technology. Its advanced manufacturing capabilities allow it to move multiple products into the clinical trials.
With strong balance sheet, multiple partnerships, and rich IP portfolio with significant inherent value, coupled with capable management team committed to the long-term vision of the company, I have reasons to believe that the previous unfounded sale provides an excellent entry point and that the current price of PSTI looks extremely attractive and we might see another near-term technical breakout just like ONCS did three days ago (which I fully participated and reaped 25% in less than 3 days) once the market realizes what a big mistake it has made for dumping this invaluable share.
Disclosure: The author is long PSTI.