In the week ended May 13, we recorded open-market insider trading activity at 638 companies having a total value of $2.8 billion. This is 25.4% higher than last week, and 193.7% higher when compared to activity a year ago. Purchases accounted for 10.4% of all open-market insider trades last week. Our insider sell-to-buy ratio, which excludes derivative conversions and certain other types of transactions, ended the week at 8.65, down from a previous reading of 13.21. We interpret this as a bearish signal for the market's performance in the coming weeks. Generally, a sell-to-buy ratio below 4 is considered bullish, while readings above 7 are bearish. The 4-week moving average also remained firmly in bearish territory. At 12.11, it is up slightly from 11.85 last week. This reading is in line with recent news flow and various other technical indicators, which suggest that equities may be vulnerable to a correction in the next few weeks.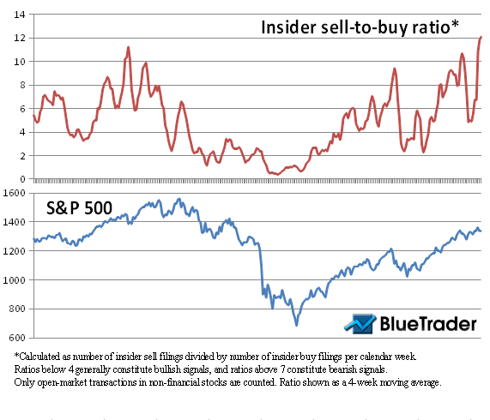 For the 5th consecutive week, activity was the most concentrated in the Technology sector, where 308 insiders filed trades having an aggregate market value of $832.1 million. Rounding out the top three sectors were Financials (254 trades for $227.5 million) and Industrials (236 trades for $390.3 million). There was a large spike in activity in the Utilities sector, where the number of trades filed was up 113% on the previous week.

The largest open-market transaction of the week was in ROC stock, where George R. Roberts, a large shareholder in the firm, sold 8,000,000 shares for a total of $430.2 million. The biggest buy last week was for 898,569 shares of YAVY, worth $2 million.

Largest insider buys during the week

Click to enlarge
Largest insider sales during the week



Click to enlarge
For more stuff on insider trading, visit BlueTrader.com.

Disclosure: I have no positions in any stocks mentioned, and no plans to initiate any positions within the next 72 hours.