In the week ended July 15, we recorded 558 open-market insider trades at 285 companies having a total value of $510.2 million. Transaction dollar volume was 41.4% lower than the previous week and 78.3% higher when compared to insider trading activity a year ago. Purchases accounted for 20.1% of all open-market trades last week. Our insider sell-to-buy ratio, which excludes derivative conversions and certain other types of transactions, ended the week at 4.17, down from a previous reading of 9.09. On average, a sell-to-buy ratio below 4 is considered bullish, while readings above 7 are bearish. As we have been writing for the past several weeks, stocks may continue their summer rally; however, there remains significant downside risk due to continued uncertainty in the European sovereign and bank debt markets, weak seasonal trends, and low overall market liquidity.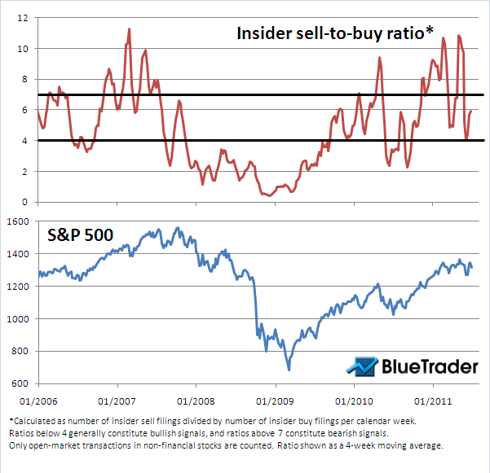 For the 14th consecutive week, activity was the most concentrated in the Technology sector, where 125 insiders filed trades having an aggregate market value of $106.1 million. Rounding out the top three sectors were Consumer Discretionary (127 trades for $197.2 million) and Industrials (65 trades for $44.5 million).
The largest open-market transaction of the week was in BTH stock, where 2 insiders purchased 800,000 shares for a total of $41.8 million. The biggest sale last week was for 953,200 shares of SIX, worth $35.7 million.
Largest Insider buys of the week




Largest Insider sales of the week