In the week ended July 22, we recorded 500 open-market insider trades at 283 companies having a total value of $4.2 billion. Transaction dollar volume was 716.1% higher than the previous week and 732.3% higher when compared to insider trading activity a year ago. Purchases accounted for 12.4% of all open-market trades last week. Our insider sell-to-buy ratio, which excludes derivative conversions and certain other types of transactions, ended the week at 9.79, up from a previous reading of 4.17. We interpret this as a bearish signal for equity market performance in the near term, as on average, a sell-to-buy ratio below 4 is considered bullish, while readings above 7 are bearish. The 4-week moving average has also risen into bearish territory.
While the Q2 earnings season thus far has been decent, big misses by Caterpillar and very cautious guidance from other firms underscore the notion that the global economy is going through (at least) a soft patch. In light of these developments, as well as continued uncertainty regarding the sovereign debt markets on both sides of the Atlantic, we continue to remain cautious on stocks in the near term.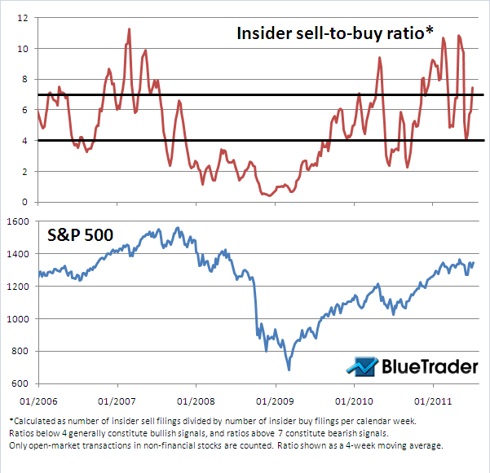 For the 15th consecutive week, activity was the most concentrated in the Technology sector, where 103 insiders filed trades having an aggregate market value of $87.3 million. Rounding out the top three sectors were Consumer Discretionary (63 trades for $3.2 billion) and Industrials (66 trades for $50.2 million).
The largest open-market transaction of the week was in WMG stock, where 7 insiders sold 367,832,000 shares for a total of $3 billion. The biggest buy last week was for 272,293 shares of TXI, worth $10.8 million.
Largest insider sales this week