In the week ended August 5, we recorded 769 open-market insider trades at 415 companies having a total value of $1.4 billion. Transaction dollar volume was 54.8% higher than the previous week and 121% higher when compared to insider trading activity a year ago. Purchases accounted for 30.4% of all open-market trades last week. Our insider sell-to-buy ratio, which excludes derivative conversions and certain other types of transactions, ended the week at 2.17, down from a previous reading of 7.04. On average, a sell-to-buy ratio below 4 is considered bullish, while readings above 7 are bearish. However, the 4-week moving average, which tends to be more indicative underlying market trends, remains far from flashing a bullish signal.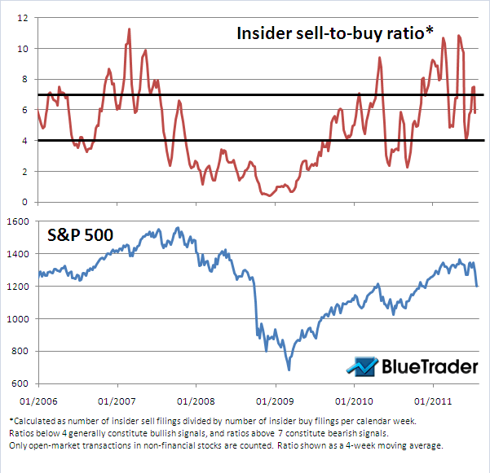 Since the end of April, we have warned of a correction in U.S. equities, and last week's sharp sell-off (particularly Thursday's 512-point bloodbath on the Dow) on heavy trading volume confirmed our fears. To make matters worse, Friday evening, S&P stripped the U.S. government of its AAA rating, citing weakening "effectiveness, stability, and predictability of American policymaking". Throw in weak earnings guidance for the rest of the year from major firms, slowing global growth, and heightened risks in the Spanish and Italian government debt markets, and it is hard to argue that things are looking good, as many analysts predict. The bottom line is that we view the correction as being far from over (absent a new round of money printing at the Fed). If insiders start buying en masse, we will view their purchases as signals that stocks are reasonably valued. Still, like in 2008 going into 2009, insiders may be early in terms of calling a bottom, as valuations could overshoot to the downside.
For the 17th consecutive week, activity was the most concentrated in the Technology sector, where 200 insiders filed trades having an aggregate market value of $514.7 million. Rounding out the top three sectors were Financials (216 trades for $55.3 million) and Consumer Discretionary (117 trades for $134.7 million). There was a large spike in activity in the Utilities sector, where the number of trades filed was up 450% on the previous week.
The largest open-market transaction of the week was in BAS stock, where Credit Suisse Ag, a large shareholder in the firm, sold 5,750,000 shares for a total of $186.9 million. The biggest buy last week was for 4,153,200 shares of XCO, worth $61.3 million.

Largest insider buys of the week





Largest insider sales of the week