At the end of every year various personal finance magazines and stock brokers publish their best stock ideas for the upcoming year. Often these are selections are never mentioned again. We decided to track the stock pick portfolios for SmartMoney, Money, Fortune, Kiplinger and Barrons publications and also brokers, J P Morgan, Morgan Stanley and Goldman Sachs.
As of April 15th, only 3 of the 8 stock pickers are beating the S&P and Nasdaq indexes.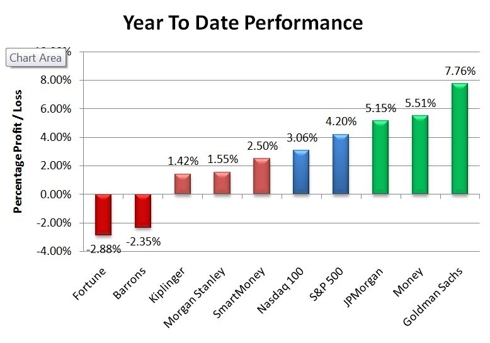 Fortune had an early lead up over 6% in the first 2 weeks but is now in last place. Kiplinger had a bad start, down almost 3% in the first week but has since recovered into positive territory. The chart below shows the portfolios profit / loss plotted weekly at the Friday closing prices.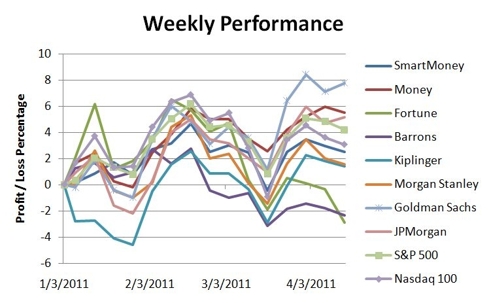 Goldman Sachs currently holds five of the top ten best performing stocks selected.

The three bottom stock pickers hold two stocks each from the overall 10 worst performing stocks selected.
It is only a little over one quarter the way through the year. We'll publish a mid year update to monitor how they continue to perform.