AAPL
->long term bearish view is more popular considering the overlapping lower value from last month.
->24 and 25 of january are the days where the buyers make their presence that considering VSA point of view where a high volume down bar with close of the low implies hidden buyers and if this is followed by an up bar next day we got confirmation of this strength. the place where the buyers appeared is known as a long term demand area considering the cluster made by long term horizontal reference and long term trend line.
now i'm not very sure how genuine is this up move and if this is not just a short covering rally considering all from above, i guess we will find the answer when we finally we will close the gap which implies a change in attitude and how the stock will react at the round number 500. till then being inside of last month value area i will wait on the side. maybe a retouch on low volume of the cluster area or on high volume with close on the upper side will bring more proof of how serious the buyers are...
(click to enlarge)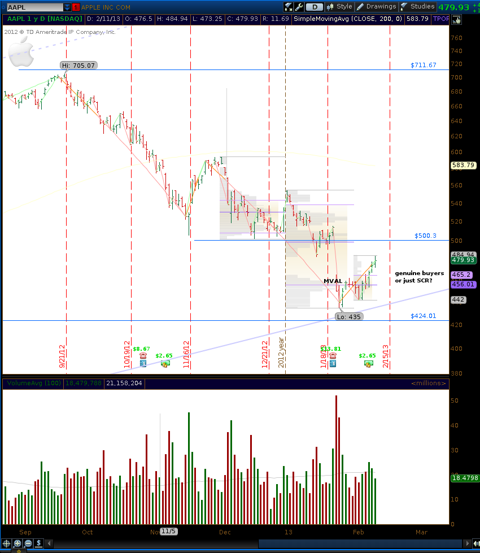 Click to enlarge
GLD
we are in previous demand area and yesterday we gaped below MVAL, near by last month low. this brought the attention of the buyers and we closed the day on volume higher than average and off lows but on narrow spread, all this implies the buyers which stepped in but they didn't manage to close the day above the open. tomorrow open type it will provide us with more clues...initiative sellers or responsive buyers?
(click to enlarge)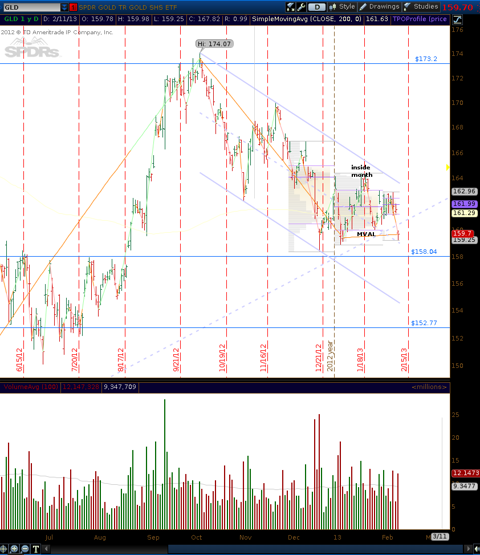 Click to enlarge