BBRY
->in the last 3 months we had inside month every next month, so this could be capitulation but what's sure it's we have allot of auction rotations in this area and once the market decide to look for new price to facilitate the trade it will be a significant move.
->if you use the Weiss principle, the up waves start to look tired and the down waves start to get life.
->last 3 weeks closed well off the high
->conclusion: lately we have allot of effort with no result, which implies hidden buyers!
->considering that the current IV=68.67% is almost equal to HV but is much bigger than VIX, i think is pretty safe for a credit spread strategy.
(click to enlarge)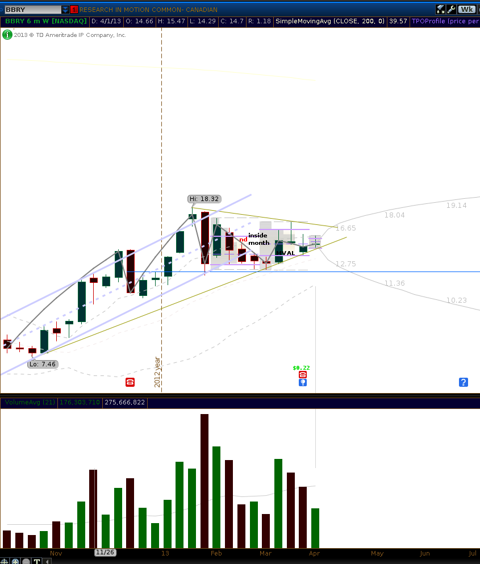 Click to enlarge
TLT
->last few weeks bond market knew a big rally and i think is kind of hard to predict the direction in bonds, considering all the things which have an influence.
-> /ZB which is the 30 year future contract is pretty bullish but the TLT contract shows some hidden sellers in Friday up move, we had a very high volume closing below the open and well off high.
->watch the future contract for more signs and watch the TLT gap and followed reactions
(click to enlarge)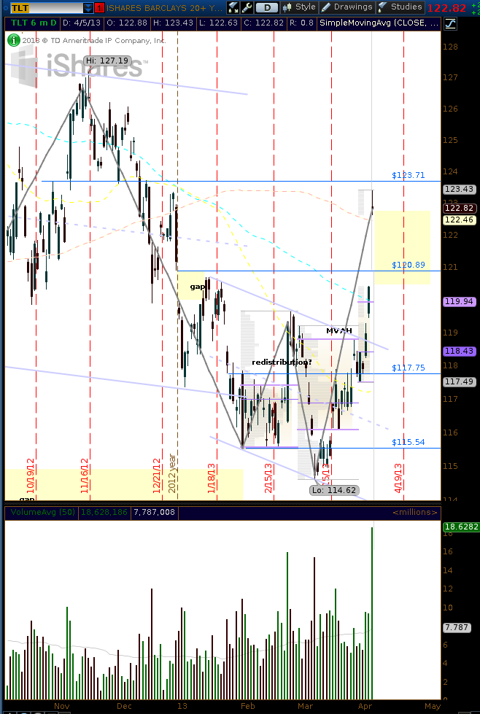 Click to enlarge