FREE Daily Stock Alerts From Stock-PR.com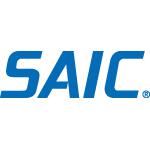 SAI, Science Applications International Corporation
** SAI reported that its Board of Directors, following a recently completed comprehensive strategic review, has authorized management to pursue a plan to separate into two independent, publicly traded companies.
The proposed separation is intended to take the form of a tax-free spin-off to SAI stockholders of 100% of the shares of a newly formed company focused on government technical services and enterprise information technology (NYSE:IT).
The spin-off is expected to occur in the latter half of next fiscal year, subject to final approval of the Board of Directors. The spin-off is not expected to require a vote of the stockholders of SAI.
Based on current plans, the two separate businesses would be:
- A technical services business – This business will focus on government technical services and enterprise IT businesses, and have a leaner and more efficient cost structure.
- A solutions-focused business – This business will focus on delivering science and technology solutions in three high-growth markets that reflect high priority, long-term global needs – national security, engineering and health.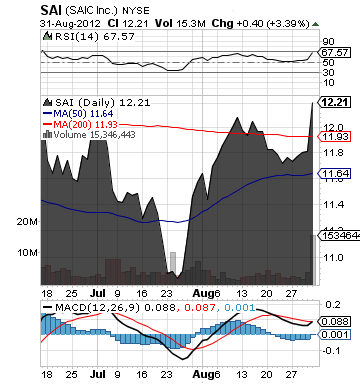 SAI is a FORTUNE 500(NYSE:R) scientific, engineering, and technology applications company that uses its deep domain knowledge to solve problems of vital importance to the nation and the world, in national security, energy and the environment, critical infrastructure, and health.
More about SAI at www.saic.com
*********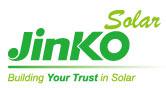 JKS, JinkoSolar Holding Co., Ltd.
** JKS reported that it will work with EPC partner Solea Renewables to deliver a Limpopo province chrome mine with the first ever off-grid utility scale photovoltaic system in South Africa.
The 1 megawatt plant will produce approximately 1.8 GWh of electricity per year and will effectively reduce the mine's daytime diesel dependency for the next 20 to 30 years.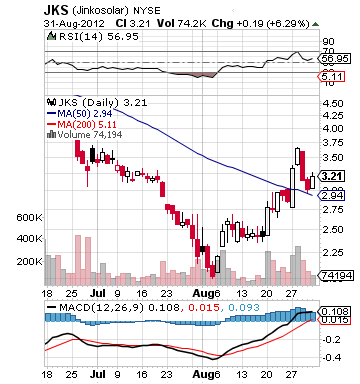 JKS is a leading solar power product manufacturer with production operations in Jiangxi and Zhejiang Provinces in China and sales and marketing offices in Shanghai, China; Munich, Germany; Bologna, Italy; Montpellier, France; Zug, Switzerland; San Francisco, U.S.; Queensland, Australia; Ontario, Canada and Singapore.
More about JKS at www.jinkosolar.com
*********

If you include video marketing, you have an opportunity to increase your sales potential exponentially. People respond more quickly and deeply to video advertising than any other medium.

Crown Equity Holdings Inc., (OTCPK:CRWE) recenly launched CRWE Tube, www.crwetube.com, a video sharing site that allows billions of people around the world to upload, watch and share original videos.
Restricting your marketing to just written text vastly limits your audience; video marketing should be seen as another mode of online communication to reach potential customers.
CRWE offers advertising branding and marketing services as a worldwide online multi-media publisher with its digital network of websites and focuses on the distribution of information for the purpose of bringing together a targeted audience and the advertisers that want to reach them.
CRWE's advertising services cover and connect a range of marketing specialties, as well as provide search engine optimization for clients interested in online media awareness.
More about CRWE at www.crownequityholdings.com.
**************************************************************
THIS IS NOT A RECOMMENDATION TO BUY OR SELL ANY SECURITY!
Disclaimer: Never invest in any stock featured on our site or emails unless you can afford to lose your entire investment. Stock-PR.com publisher and its affiliates and contractors are not registered investment advisers or broker/dealers. Our disclaimer is to be read and fully understood before using our site, reading our newsletter or joining our email list. Release of Liability: Through use of this website viewing or using, you agree to hold Stock-PR.com report and Crown Equity Holdings Inc. CRWE, its operators, shareholders, employees and/or contractors harmless and to completely release them from any and all liability due to any and all loss (monetary or otherwise), damages (monetary or otherwise) that you may occur. (Read more at http://stock-pr.com/disclaimer).Crown Equity Holdings Inc. (OTCPK:CRWE) is a media-advertisement and newswire company. Crown Equity Holdings Inc. (OTCPK:CRWE), in some cases, provides media advertising and public awareness for both public and private companies, as well as disseminating news. As such, in some cases, when Crown Equity Holdings Inc. (OTCPK:CRWE) advertises for a particular client, Crown Equity Holdings Inc. (OTCPK:CRWE) charges an advertising fee which it must disclose under 17B. The fee may be in cash, in free trading stock or in restricted stock. Crown Equity Holdings Inc. (OTCPK:CRWE), if paid in stock, can and may sell those securities during the advertising period.
stock-pr.com/21967/stock-alerts/science-.../
Disclosure: I have no positions in any stocks mentioned, and no plans to initiate any positions within the next 72 hours.