FREE Daily Stock Alerts From Stock-PR.com

WRC, The Warnaco Group, Inc.
** PVH Corp. and WRC reported that they have entered into a definitive merger agreement pursuant to which PVH will acquire WRC and holders of WRC common stock will receive $51.75 in cash and .1822 of a share of PVH common stock for each share of Warnaco common stock.
The transaction values WRC at approximately $2.9 billion.
With over $8 billion in pro forma revenue, PVH will be one of the largest and most profitable global branded lifestyle apparel companies in the world, with a diversified portfolio of iconic brands led by Calvin Klein and Tommy Hilfiger, as well as heritage brands – Van Heusen, IZOD, ARROW, Bass, Speedo, Olga and Warner's.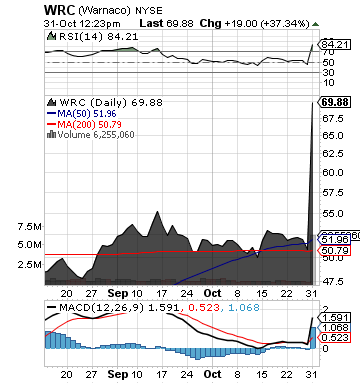 WRC is a leading global apparel company engaged in the business of designing, sourcing, marketing and selling men's, women's and children's sportswear and accessories, intimate apparel, and swimwear under such owned and licensed brands as Calvin Klein®, Speedo®, Chaps®, Warner's® and Olga®.
More about WRC at www.warnaco.com.
**************************************************************
Read Full Disclaimer at http://stock-pr.com/disclaimer
stock-pr.com/22020/stock-alerts/pvh-to-a.../
Disclosure: I have no positions in any stocks mentioned, and no plans to initiate any positions within the next 72 hours.